Return to Headlines
Where are they now: A fire for teaching that never burned out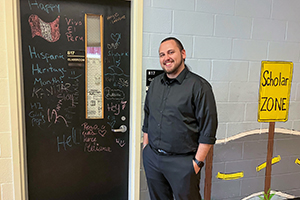 Steven Lewis, a 2013 Central Academy of Technology and Arts (CATA) graduate, now teaches English Language Arts at Health Sciences Academy (HSA) at Monroe Middle. While in high school, he was enrolled in the Teacher Preparation Academy and planned to attend law school or work toward becoming a college professor. Lewis was accepted to Duke University and majored in political science.
"Sun Valley Middle School was where my interest in teaching began. In eighth grade, my math teacher, Mr. Masterin, and social studies teacher, Ms. Fauter, inspired me with this interest," said Lewis. "I would always get my work done early in his class and he would have me assist other students. He pulled me aside and said, 'I think you'd be good at this, it's something you can look into. CATA has a teaching program.' I've always loved social studies and she had a way of making the class fun and engaging. They kind of started me on this path."
Lewis also had excellent teachers at CATA and truly enjoyed his classes. When it came time to leave for Duke, he shifted his focus from education to political science with plans to pursue law school after completing his degree. His change of plans came about after a conversation with his grandmother.
"She asked me what I wanted to do. I told her I wanted to teach. She told me I'd never make any money doing that, so I should become a lawyer. That became my plan," said Lewis. "I was lucky to get a lot of scholarships to attend Duke, but I still had some student loan debt. I knew law school would mean more loans. I wasn't sure if that is what I wanted."
Lewis worked in retail and food service after graduating from Duke, but he remained unsatisfied. His then-girlfriend, now wife, urged him to reconsider teaching.
"I started to look into the alternate pathways to becoming a teacher and began applying to schools in UCPS. I interviewed at several schools. Monroe Middle administration brought me back several times. I had the opportunity to teach a lesson in an eighth-grade class, and I loved it, so when they offered me the job, I said yes."
Lewis still enjoys teaching at HSA at Monroe Middle four years later. He is certified in social students and English Language Arts.
"I didn't realize education was a calling for me. I was interested in high school, but it faded. I knew I was meant to be a teacher after I started the work, formed relationships with students and watched them grow and progress throughout the year."
His story doesn't stop there. Lewis recently applied to the Principal Fellow Program, a scholarship program for teachers aspiring to become administrators, and was accepted. He will earn his master's degree in school administration through the program, which includes a year of academic study while continuing to teach and a year-long administrative internship.
"By joining school administration, I hope to extend my impact on student learning beyond the walls of my classroom. I also want to be an inspiration for students by showing them what I have been able to accomplish with the determination that was instilled in me as a UCPS student."
Now his wife, Andrea Chavez, also teaches sixth grade at the school.
"About three years ago, I was teaching summer school and my wife was an ESL (English as a Second Language) facilitator at Monroe High School. I asked her to come to the middle school to help me," said Lewis. "It's been great to have her here. She inspires me. I've seen how she builds those relationships with the kids and she makes me want to be a better teacher. We have a good grasp of what each of us does daily, so it's tremendous support and resource."
Lewis learned a lot on the road to choosing his career path. He would advise students to pursue anything they are enthusiastic about, whether it is attending college, entering the workforce or mastering a trade.
"Pursue what you love. At the end of the day, if you don't love what you are doing, it won't matter how much money you are making. You have to love what you do and I love what I do."
09/21/2022