Return to Headlines
Why do we need this bond: East Elementary School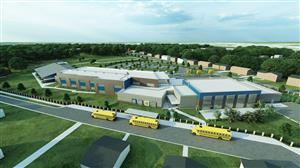 Staff at East Elementary put in a lot of work to keep the facility, which is currently 70 years old, in good shape and make the most of the available space. However, an outdated school with small classrooms is not the ideal setting for the school community. Staff and students are eager to move to a new school if, on Nov. 8, voters approve the 2022 School Bond. East Elementary is one of two schools in the bond package addressing aging facilities.
The new school would be a two-story facility. It would include additional pre-kindergarten classrooms, a flexible multi-purpose gym, expanded dining space, collaboration areas, a more energy-efficient building and improved safety with more on-site parking.
"A new facility would be beneficial to students in many ways. We provide a Health Sciences Academy thanks to our partnership with Atrium Health. We want our students to have a dedicated space to engage in even more immersive, hands-on learning," said Principal Michelle Goode. "We want families to come to school and engage in the activities we provide, but parking is often a challenge."
The pre-kindergarten classroom has a waiting list due to the school's current lack of space. They are only able to accommodate one classroom. They frequently have to refer families to the farther-off Walter Bickett Education Center.
"We don't want to turn away families. Pre-kindergarten is essential. Having it in one location allows students to become familiar with the school setting they will be attending in kindergarten," said Goode.
Tramaine Davis has taught at East Elementary for 18 years and is currently a fifth-grade teacher. She would like the facility to reflect the outstanding work happening within the school.
"I see the investment in learning that our teachers, students and families put in daily. A facility that would give us more space and allow us to host more events would open up more opportunities for community involvement," said Davis. "The teachers here work hard, the students here work hard, our families here work hard, so a new facility would be a representation of who we are. We are just as great as the other schools around the county."
Davis has chosen to stay at East despite the aging facility because she loves the students and the relationships she forms with them and their families. She often teaches a student's sister, brother or cousin and sees the influence she has had on families. She is doing her best with what she has, which isn't always suitable for optimal learning. Asking students to work in small groups is often difficult because of space limitations.
"Right now, I only have two places where kids can go work together. If we had a larger classroom, we could use different areas to encourage that collaboration between students. They could also get group work done or have support staff come into a designated area," said Davis. "Small group instruction is this school's magic. That's where you can often get students to speak up, clear up misconceptions and give more personalized time."
Please visit www.ucps.k12.nc.us/bond2022 to learn more about the projects, review frequently asked questions and see renderings of the proposed buildings. Residents can register to vote at the Union County Board of Elections. Early voting starts Oct. 20.
10/10/2022