Return to Headlines
Marvin Ridge High student wins UCPS Holiday Card Contest, purchase card here!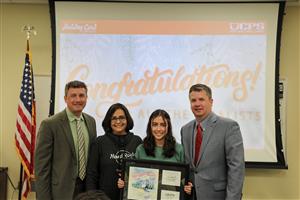 Congratulations to Maia Ramirez from Marvin Ridge High, this year's winner of the UCPS Holiday Card Contest. Maia's artwork will be on the cover of the holiday card with her name, grade and school on the back.
"I'm very excited that I won," said Maia, a 10th grader. "For inspiration, I find pictures of different landscapes because that is what I like to draw. Winter scenes were the inspiration for this one. My favorite medium is watercolor, which is what I used. I love art and can see myself having a career that includes it someday."
Two hundred fifty students across all grade levels submitted their original, festive artwork to the competition. On Nov. 8, the top 10 finalists were announced after careful consideration by the holiday card committee. The finalists' artwork received 4,614 votes.
"We are proud of all our finalists and art teachers," said Superintendent Dr. Andrew Houlihan. "We are also thankful for their parents' support of the arts and the district."
On Nov. 17, UCPS organized a breakfast for the finalists, their families, art teachers and principals to celebrate their designs and announce the winner. During the event, students explained the meaning behind their artwork before being presented with a certificate recognizing their accomplishments. Some artists' inspiration came from holiday memories, family gatherings, birds, towns, snow and gnomes.
"We have so many talented artists, and the variety of themes and artwork submitted was incredible. Listening to their creative process is always fascinating and a highlight of the breakfast," said Jessica Garner, the director of college readiness. Garner also supervises the arts and humanities departments.
As the winner, Maia received a framed copy of her card, a $100 Hobby Lobby gift card and special recognition on the district's website and social media platforms. For a donation of $10, staff, students, parents and family and community members can order a pack of 10 cards at Livingtree. All proceeds benefit the art department at Marvin Ridge High.
"I admire Maia's self-drive. She's very dedicated and motivated. It's beautiful to see her creativity come through like this," said Marcy Williams, an art teacher at Marvin Ridge High.
Marvin Ridge High's principal, Matt Lasher, shared in their excitement.
"I'm so proud of our students and impressed by what they do," said Lasher. "I love to see our students pursuing their passions. As a school, we want to provide those opportunities for them."
Watch the announcement. Purchase the holiday card. Pictures from the celebration are below.
11/17/2022