Return to Headlines
January is National Mentoring Month: Bonding through different languages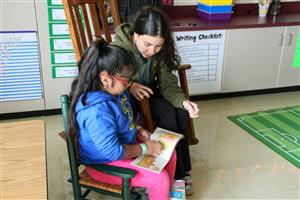 National Mentoring Month is an annual event recognizing the importance of mentors in the lives of others. In addition to helping people learn and grow, mentors can provide needed support. They have the unique opportunity to help someone reach their full potential. It is both rewarding and inspiring.
Union County Public Schools has many examples of formal and informal mentorship for students and adults. Often, it is an adult mentoring a child, but peer-to-peer mentorship is just as important. In a two-part series, we will highlight these types of mentorship.
Student-to-student mentors
Porter Ridge High and Sardis Elementary teamed up to create a Multi-lingual Learner (ML) Mentorship Program last year. The idea was to pair former ML program high school students with current ML program elementary students to improve learning outcomes. The mentorship allows the mentee to learn from a shared experience, which could make them feel more comfortable and connected.
What began with three high school students helping third graders with reading and math has expanded to 23 mentors this semester and about 13 to 15 next semester. The high school students are bused to Sardis and spend an hour every Wednesday with their respective mentees.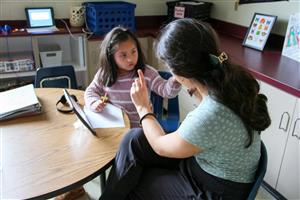 Tenth-grader Cody Chen and his mentee's native language is Cantonese. Cody likes the one-on-one time, which allows for more connection. He became a mentor to provide the friendship and guidance he wished he'd had at that age.
"We mainly help students with reading and math. It's up to the teacher to let us know what else our student needs," said Brenda Correa, a 12th-grader and native Spanish speaker. "I'm helping her with math today. She knows a lot of the material. She just isn't always confident in her choices or in expressing them. I try to connect English and Spanish when I work with her so she can get better at that. It's been really impactful for me. It's a way to help someone with language barriers like I once had. I feel like I'm making a change."
Alina Dyedchenko, an 11th-grader whose native language is Russian, attended Sardis in fifth grade. She was inspired to become a mentor because it was hard for her, at first, to make new friends and adjust to a new culture.
Each mentor has their own way of working with their mentee. Senior Pedro Sosa found that he and his mentee are visual learners, so he often incorporates different visuals when they meet. On this day, Pedro used blocks to help his mentee with his math.
"First, I try to help him understand what he is learning in his native language, Spanish. I'm using blocks so he can visualize how math works. It's been working for us," said Pedro. "It can be hard to think when you are trying to do things in two languages, but when you see the lesson in action, it can make the concepts easier to understand."
Eleventh-grader Shanti Santana, a native Spanish speaker, was working with her mentee on reading skills. As her mentee read, she would ask her questions about the book. They were also working on pronunciation and sounds. When Shanti heard about the program, she was excited to join.
"I struggled in middle school. I'm doing this because I don't want that to happen to someone else," said Shanti.
What did the elementary students have to say about it? With smiles, they said they liked having the older students talk with them, sit with them and help them because it makes them feel special.
01/26/2023