Return to Headlines
Books and Brackets: the competition that brings out a love of reading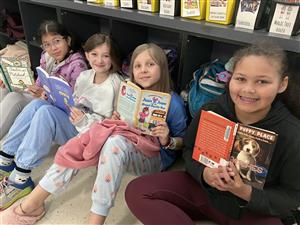 On Wednesday, Feb. 22, Union County Public Schools kicked off the 2023 Books and Brackets reading challenge. Watch the live announcement.
Books and Brackets, modeled after the March Madness basketball competition, is a five-week reading challenge for the district's 30 elementary schools. In 2022, third, fourth and fifth graders collectively read about 9.3 million minutes, which translates to about 155,000 hours.
Theme weeks will continue. They include the love of reading is a superpower, the love of snuggling up with a good book, the love of reading with good friends and hats off to our favorite authors.
On March 1, Indian Trail Elementary students enjoyed a cozy reading time in their pajamas. Many of the third and fourth graders took out their favorite chapter books, which included Captain Underpants, Harry Potter and Stink.
Third graders Avery Douglas and Aubrey Avery are good friends who love reading together. They found a quiet corner to sit and enjoy their books. Aubrey chose The One and Only Ivan, a chapter book with 319 pages. The book is about hope and friendship and was inspired by a real silverback gorilla named Ivan who was held captive for 27 years. It's a story about him, an elephant named Stella and a stray dog named Bob.
"I'm reading Diary of a Wimpy Kid: Hard Luck. I love that series because it keeps me interested, it's funny and has things that are like real life," said Avery.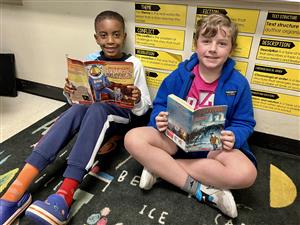 In fourth grade, many students picked books based on interests such as science, animals, cartoons or fairytales. Interested in planets and the solar system, Alexander Forrester was reading a book about Mars.
"I like Books and Brackets because I get motivated to read even more. I like reading at night because it helps me relax and unwind," said Alexander. "I like other types of books, too. I finished reading Wonder a few months ago. It was about 300 pages. I like reading longer books with interesting authors."
A more whimsical adventure book intrigued Aliana Asresahin, a fourth grader. She was reading The Land of Stories: The Wishing Spell, a story about twin siblings Alex and Conner Bailey, who grew up with fairy tales read to them by their grandmother. One day, the twins are transported into those fairytales.
"I love how this book combines classic fairy tales with fun chapter book formats. Right now, it's about Snow White and two children who have been taken from their homes. They go into a portal and have to use clues to try to get back," said Aliana.
Ashley Miles is a fifth-grade teacher at the school. Miles likes Books and Brackets, which allow students to explore different genres and concepts that might be of interest. She said it also leads to conversations about the books and what students liked or did not like about them.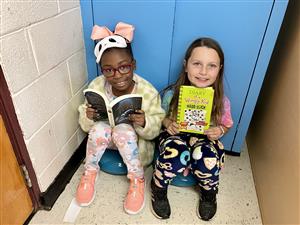 "The conversations often encourage other students to pick up a book they might not have thought to read," said Miles. "It's not a teacher telling the students what to read, which leads to voice and choice, too."
Students spend their days and nights immersed in books as the playing field narrows down each week to the Sweet 16, Elite Eight and Final Four. The schools that have made it to the Sweet 16 have read a total of 2,258,700 minutes since the challenge began.
The Sweet 16 schools are Stallings Elementary, Marvin Elementary, Unionville Elementary, Western Union Elementary, Weddington Elementary, Fairview Elementary, Poplin Elementary, Sandy Ridge Elementary, Porter Ridge Elementary, New Town Elementary, Walter Bickett Elementary, Indian Trail Elementary, Wesley Chapel Elementary, Shiloh Valley Elementary, Antioch Elementary and Kensington Elementary. The listing is not indicative of who is leading in reading minutes.
The Elite Eight schools will be announced March 9, and the Final Four will be named March 16. The winning school will be revealed during a celebration at Wingate University March 31.
03/02/2023