Return to Headlines
Goal-getters: fifth-grade boys create school's first soccer team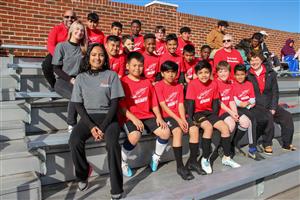 Soccer is a beloved sport worldwide, and for a group of friends who share a passion for the game, starting a boys' soccer team at Rock Rest Elementary was an idea they'd been kicking around. About a month ago, fifth-graders Jesus Hernandez and Ramzi Saquich approached their school principal, Kristy Thomas, with the idea. They were thrilled to learn that she fully supported it.
"After talking, we agreed that they needed to develop the guidelines for being on the team and needed to share those with me. Within days, they decided that team members needed to work hard at school and be respectful to all," said Thomas. "We agreed on the criteria and solicited interest in forming the team. About 17 boys signed up, teachers agreed to coach and Wingate Elementary agreed to be our partner in this process."
A single idea ignited a friendly rivalry between the two schools, leading to a highly anticipated game on March 14 at Wingate University's soccer field.
The Rock Rest team started practicing twice a week after school. They focused on basic skills such as passing, shooting, dribbling and controlling the ball. They also kept each other accountable to ensure everyone could participate.
"This feels like we are leaving our mark on the school community. It makes us feel good because it's something we started and will hopefully continue at Rock Rest," said Yurem Liscano.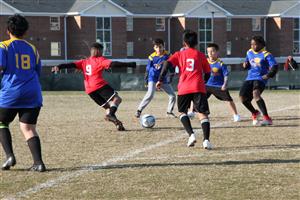 Jose Sequera, an English as a Second Language teacher, agreed to be one of Rock Rest's coaches.
"I've seen positive changes. For example, our goalkeeper Yoel would run and have pain everywhere when we started. Now, he's confidently flying over here and there, blocking shots and catching the ball," said Sequera. "The students also noticed that he can block many of their shots now."
Some team members have played soccer before and others are new to it. No matter what level of expertise each person brings, they've quickly become united.
"My favorite part about this month is that we have all worked together as a team with no arguing and we've helped each other out," said Jesus. "When we score a goal in practice, we celebrate each other."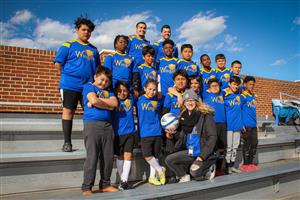 Thanks to the team at Rock Rest, Wingate Elementary's principal, Maxie Johnson, agreed to form a team as well. Their team of 16 practiced once a week and partnered with the Wingate University Boys' Soccer team. A few of the university players would join their practices to help them improve their skills. The students appreciated learning from the more experienced players.
Teacher assistant and coach Cayce Andreolas wanted to be one of the coaches because she grew up playing soccer, coached soccer at Piedmont High and has been a cheerleading coach. She loves being involved in extracurriculars and jumped at the chance.
"We want this to be a positive boost for our boys. They know that the other grades look up to them. They've risen to the challenge and worked hard in school and during practices," said Andreolas. "Having the university players was great. More came than we expected. They've also invited our team to be ball boys at their next game."
Wingate team members Ian Loredo and Jamarion Hough both grew up around soccer. Jamarion's uncles played the sport and he grew up playing it with his brother and sister. He was thrilled that he could now play for his school.
"I wanted to be a part of the soccer team because my dad was a soccer player. Growing up, I went to see some of his games. I liked the way he played," said Ian. "It influenced me a lot and I was on a team a few years ago. I'm excited about the game."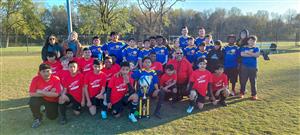 Game day arrived and the excitement was palpable. The players were excited about showing off their skills and representing their schools. Parents, faculty, staff and Wingate University students were in the stands cheering them on.
The Rock Rest Rockets played a very intense game against the Wingate Wildcats, and it was clear that both teams were putting everything into it. The Rockets passed the ball with precision, worked together on defense and made some impressive goals, but in the end, the Wildcats emerged victorious. It was a very close game that was a testament to the skill and determination of both teams. The final score was 6 to 5.
The Rockets and Wildcats proved that with hard work, dedication and the support of their community, anything is possible. The game was not just about winning or losing. It was about coming together to pursue their shared passion for soccer, building lasting friendships, creating memories and leaving a legacy.
Both schools plan to continue offering it next year.
Rock Rest Rockets
Players
Dylan Castro
Fernando Chavez
Jared Marban
Yowell Yepez-Crispin
Trent Bingham
Angel Tomas
Yordi Figueroa
Jesus Hernandez
Carter Kamolnik
Noah Hudson
Yoel Villa
Michael Mills
Chayse Nesbitt
Alex Valle
Coaches
Cayce Andreolas
Leighton Kessner
Randy Rutledge Jr.
Wingate Wildcats
Players
Ian Jose Loredo
Daniel Martinez
Trashun Knotts
Jovani Longino
Jamarion Hough
Eduardo Gomez Teran
Marcos Lopez
Carlos Hernandez-Garcia
King Rushing
Jesus Mendoza
Yordi Perez
Landus Garris
Ryan Gabriel
Alan Chavez
Eugenio Garcia
Aldo Castrejon Tinoco
Coaches
Jose Sequera
Lacey Hart
Tiffany Zapata