Return to Headlines
Porter Ridge High's Deanna Nardell receives EC Educator of Excellence Award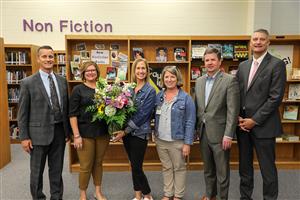 Educators specializing in Exceptional Children (EC) support diverse learning needs and promote inclusivity and equity in education. Among these outstanding professionals is Deanna Nardell, the Transition to Adulthood (TTA) teacher and EC Department Chair at Porter Ridge High.
On Tuesday, September 26, Nardell received the 2023–2024 EC Educator of Excellence Award. Principal Dr. Kim Fisenne and the district's EC Director, Dr. Laura Beachum, surprised Nardell at what she believed was a routine staff meeting. Superintendent Dr. Andrew Houlihan addressed the group, and Dr. Beachum made the announcement.
Porter Ridge High Assistant Principal Dr. Christie Felder nominated Nardell.
"We ask leaders from each of our schools to nominate someone who represents innovative leadership. Her selection was because of her work creating entrepreneurship opportunities for her students. She has represented what a Portrait of a Graduate, as an adult, would be for her students. It's an honor to showcase her," said Dr. Beachum.
One part of Nardell's nomination letter read, "Ms. Nardell is an extremely skilled professional. She keeps the EC Department well informed with effective written and verbal communication. She coordinates with our colleagues in various departments, such as speech, occupational therapy, physical therapy and interpreters, to ensure continuity of service. Ms. Nardell is never too busy to answer questions for our teachers, peer mentors, families or members of the community."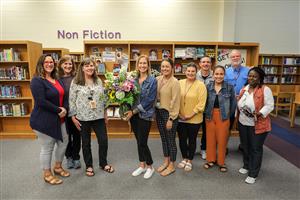 Nardell has been teaching students with special needs for 26 years. Her dedication to the TTA program ensures exceptional teaching tailored to each student's academic, practical and job training needs, supporting their growth and development.
"I am overwhelmed and surprised, but it feels great. I love what I do. I love coming to work every day. Being with the kids makes me smile. Watching them grow fills me with joy," said Nardell. "I love being a part of this school community."
TTA students operate The Pirate Cove Cafe, which Nardell leads. This cafe is a source of pride for the students and the faculty. The students provide a high level of friendly customer service, and it serves as a valuable platform for them to develop and practice life skills. They are responsible for taking, preparing and delivering orders to the school's staff.
Nardell's involvement does not stop there. She also helps prepare students for the Union County Special Olympics. Additionally, she works with the school's physical education teacher to prepare students for the school's Special Olympics-type program. They host students from Porter Ridge Elementary and Middle for arts and athletic activities.
"We work hard to ensure our Exceptional Children can access the curriculum and have a great high school experience. Ms. Nardell has led that charge. She works very closely with all our EC teachers, whether they are in a separate setting like she is or in the regular education classroom in inclusion," said Dr. Fisenne. "She is a problem solver. She has completely gone to town with our Pirate Cafe. It's one of the teachers' favorite parts of the day."
Nardell will be among the recipients from across the state who will be honored in October by the North Carolina Department of Public Instruction during the Annual Conference on Exceptional Children.
09/27/2023