Return to Headlines
Where are they now: The love of language leads to a love of teaching
Union County Public Schools is starting a four-part "Where Are They Now?" alumni series. We want to thank the alumni who submitted their information for consideration. Due to the number of replies, more features will be highlighted on multiple platforms throughout the school year.
Ashley DuFault, a 2013 Weddington High School alumna, presently teaches French at Cuthbertson Middle School. Her journey started with two possible areas of study: medical science or a foreign language. DuFault had an interest in both. She eventually decided to study French and international studies at Sewanee: The University of the South. She affectionately describes the university as Hogwarts-like (Harry Potter reference) with a family feel.
"I thought I would become a pediatrician. I took medical science classes and wanted to wear bright red scrubs and walk around the hospital. I probably watched too much Grey's Anatomy, too," said DuFault. "In addition to that, I loved French. I started taking it in middle school and continued in high school. I also became the president of the French Club and the French Honor Society. Those two subject areas were always on my mind; they didn't feel like work. I also kept my high school notebooks for years after I graduated."
Her family sponsored two French exchange students thanks to her high school French teacher, Madam Sue Mead. Each student spent two weeks in her home during her junior year, which affirmed her decision to study French. DuFault also spent a week in Paris with students from her high school and Cuthbertson High that year.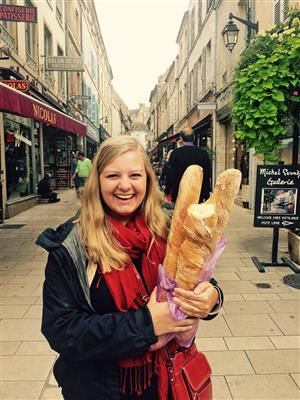 "One of the exchange students sat in classes with me, which allowed me to speak French with her as she was trying to learn English," said DuFault. "We took them all around North Carolina, to the outer banks and even went to a Cold Play concert. In my senior year, we hosted an Italian student. We had to switch gears a little bit. It was still a great exchange of learning about cultures, traditions, food and music. He and I still talk."
During her junior year of college at Swanee, DuFault studied in France for four months. It was her turn to live with a host family. She became more immersed in the culture and language during her stay. She also had the opportunity to study with one of her Swanee professors and others from France.
"It was an eye-opening experience for a few reasons. What was cool about the program was that Swanee created their own. Having our professor come abroad with us for four months was special. It was a great experience because we had that extra support," said DuFault. "Staying with a host family was interesting. Seeing the family dynamics and trying to fit into them was an adjustment. The craziest part about the experience was that I was there for the 2015 Paris attacks."
DuFault remembers it very well. That week, her father was supposed to visit, but she had an event, so he decided not to go.
"My friends and I had planned to meet at a bar before our event. We chose to go elsewhere. We later discovered that the bar had been targeted. It was a surreal ending to that experience," said DuFault.
It did not stop her from returning to France after graduating from Swanee. DuFault taught English as a second language in two Tours elementary schools for a year. The opportunity arose when she sought advice from her advisor.
"I went to my advisor and asked what I should do next. Here I was with a degree in French and international studies. Where do I go from here? What do I jump into?" said DuFault. "He told me about the TAPIF (Teaching Assistant Program in France) program. I looked into it, applied and got accepted."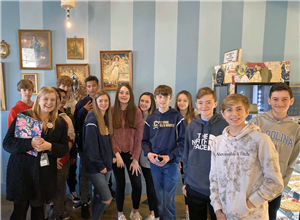 This time, DuFault had to find a place to live, open a bank account, buy a cell phone and locate a doctor - everything that comes with being self-sufficient. She gained more than independence. The love language drew her to the love of teaching.
"While in France, I applied to the University of North Carolina Charlotte for a teaching license. I got accepted and moved back to the United States," said DuFault. "I was working at the Goddard School while going to college. I received a call from Cuthbertson Middle asking if I could substitute for two weeks. Madame Mead had given them my name. I couldn't do it but told them to keep me on their list. They did. I've been at Cuthbertson Middle for three and a half years."
DuFault's advice to her students and any youth about their life path is simple.
"Nothing is certain based on my own experiences. There is always the chance to alter paths and pursue something more fulfilling. You can have a variety of interests," said DuFault. "I believe there is a way to pursue those interests at different stages in your life. I'm proof of it."