Messages from Mr. Childers
Archived Blackboard Connect Messages
Message from Mr. Childers November 3, 2019
Hello Parents,
This is Tom Childers contacting you from Antioch Elementary School. Our staff continues to do everything possible to improve the flow of the morning car rider line. We have installed traffic barriers to remind drivers to stay to the right, we have added cones to the drop off areas, we have added lighting for improved visibility and increased the number of staff members whom assist with morning car rider line. Please be patient and help yourself as well as our staff by following these procedures:
Please do not line up for morning car rider before 6:55am.
Please proceed in a straight traffic pattern unless directed by a staff member.
Between 7:10 am and 7:25 am, we have noticed a significant reduction in traffic. It may be helpful to target that gap for your drop off.
Students who are not past the security doors after 7:30 am will be counted as tardy.
Beginning on November 12th, our staff will block and stop the car rider line at 7:30am. Parents will be expected to walk their child into the building and receive a tardy pass before the child can enter through the security doors.
This week at Antioch, Fourth and Fifth Grade students will participate in the NC Check In for Reading on Thursday. On Friday, Third, Fourth and Fifth grade students will participate in the NC Check In for Math. Report Cards will go home on Thursday and the 4th & 5th Grade will perform a concert beginning at 5:30pm.
Monday, November 11th is Veterans Day and there is no school for students or staff. On Thursday, November 14th, our Fifth Grade Students will participate in the NC Check In for Science.
GIVING GATORS WEEK AND COMMUNITY SERVICE DAY
November 12th - November 16th
Show your Gator Spirit by donating food to local families in need! Our annual food drive supports our very own Ms. Rogers' Food for Families program. Food for Families feeds over 800 families in Union County schools.
Each grade level is asked to bring a specific food item*. Giving Gators Week is followed by a Community Service Day on Saturday, November 16th to pack the donated food in preparation for delivery to the families.
Kindergarten – Bring in 15 oz. canned fruit
1st Grade – Bring in 15 oz. ravioli
2nd Grade – Bring in 15 oz. canned vegetable
3rd Grade – Bring in 16 oz. peanut butter
4th Grade – Bring in 12 pack of boxed grits or oatmeal
5th Grade – Bring in 12 pack of boxed grits or oatmeal
Place food in the bins at the school entrances November 12th-15th. There will be parent volunteers in the car rider and bus rider areas to help students as needed. Food may also be dropped off on Saturday November 16th from 8:30-9:00 am in the bus lot.
Important: Please no glass jars, and please DO NOT bring grits or oatmeal in Costco/Sam's Club packs. These cannot be correctly portioned for the individual bags. Thank you!
* If your child has a food allergy feel free to substitute with an item from a different grade level.
This week-long event needs many adult and student volunteers in order to be successful, and is a great opportunity for students to help with a hands-on service project!

Please see the attached infographic that provides final results from our Fall Book Fair.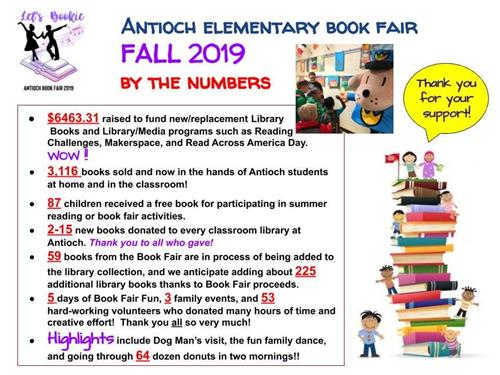 Click here to view the most recent PTO Newsletter.
Upcoming Events: Did you know that a full list of school events is available on the Antioch Elementary Website?
11/14 - NC Check In Assessment - Science (5th Grade)
11/14 - Fall Picture Retakes
11/14 - Kindergarten Parent Reading Night
11/19 - Dual Language Advisory Council
11/20 - School Improvement Team Meeting
11/21 - Second Grade Field Trip - Children's Theater
11/27 - 11/29 - Thanksgiving Holiday
Thank you for supporting our school - working together as one team on one mission, we are meeting needs, challenging minds and celebrating accomplishments.
Until next time… Have a great day!