Messages from Mr. Childers
Archived Blackboard Connect Messages
Hello Parents,
My name is Tom Childers and I am the principal of Antioch Elementary. Last Friday I shared a google doc for parents to post their questions regarding the start of the school year. I am going to attempt to respond to your questions and give you additional information to help you prepare as we close in on the beginning of a new school year. Please keep in mind that many of my responses are based on current guidance and many items have changed multiple times since June and are therefore subject to change.
I will begin by addressing your questions regarding student safety. Students and staff are required to wear face coverings during the day unless eating, drinking or engaged in physical activity. UCPS is waiting for specific guidance to address students who do not wear face coverings. I will share additional information once it is available.
Social distancing guidelines will be followed. The building will have signage and floor markings to remind students of the need to maintain a safe distance. Our staff will verbally remind students of the need to social distance for the safety of everyone. Students are strongly encouraged to bring plastic refillable water bottles. Thanks to the Antioch PTO our school is equipped with numerous bottle filling stations. While water fountains are available to students for use, we strongly encourage the use of personal water bottles.
Sharing of instructional materials such as pencils, crayons and markers will be prohibited. Your child's supplies will be used only by your child. Other instructional supplies provided by the school, such as magnetic letters, books and math manipulatives will be managed in a manner to eliminate the spread of germs. Students will likely eat lunch in the classroom to limit exposure to large groups. Recess will occur daily, however students will not be permitted to use the playground equipment as there is no feasible way to sanitize these large structures between use. Our custodial staff will sanitize high touch areas and restrooms five times each day.
Non-essential visitors will not be permitted to enter the building. This means that parents will not be permitted to walk students to class or eat lunch with their child. All parent meetings will be held virtually. Volunteers will not be permitted in the building.
Our school will have a special plan for Kindergarten students during the first two weeks of school. I will communicate the details of that plan to parents at a later time. Staff members will walk Kindergarten students to class for the first few weeks of the school year.
Our school will utilize a new app this year to manage student check-in, check-out and transportation changes. All changes must be made through the app. More information is forthcoming. The app is called Student Dismissal Manager. Students who arrive at school late will be greeted and screened at the front door. Parents will communicate with the office through the use of the video doorbell for student check out and the child will be sent to parents at the front entrance. Sometimes students forget items at home, parents are permitted to bring prescription eye wear, prescription medicine and other items deemed essential by the school. This would include a forgotten lunch if the child has a special diet and our cafeteria cannot accommodate the child's needs. The school will not permit the drop off lunch and homework unless lunch meets the previously discussed criteria. Parents will only be permitted to drop off clothing items if the child's clothing becomes soiled during the school day. All students should bring coats, jackets and face covering daily at the beginning of the day. These items will not be permitted to be dropped off during the day. The school will provide a face covering for your child if they forget their face covering at home.
Everyone who enters the building will undergo a temperature check and symptom screening. Staff members will complete this daily before engaging with students. Our building will have multiple entry points, the walker door, the front lobby and the gym door. Our staff will provide multiple screening stations to complete the required checks before students enter the classroom. Staff and students are not required to have a COVID-19 screening before attending school.
Any student who has a temperature above 100.4 will be checked at least twice before notifying the parents. Symptomatic students will report to a space away from other individuals until a parent can pick them up from school.
Students with symptoms will be excluded from school until ALL of the following occurs: 1. It has been at least 10 days since the child first had symptoms AND 2. It has been at least 3 days since the child had a fever without the use of fever reducing medicine AND 3. It has been at least 3 days since the child's symptoms have improved, including cough and shortness of breath.
A child may return to school once they have had a negative COVID-19 test and there is no fever without the use of fever-reducing medicines for 24 hours.
If a child has been diagnosed with COVID-19 but does not have symptoms, they should remain out of school until 10 days have passed since the date of their first positive COVID-19 diagnostic test, assuming they have not subsequently developed symptoms since their positive test.
If a child has been determined to have been in close contact with someone diagnosed with COVID-19, they should remain out of school for 14 days since the last known contact, unless they test positive. In which case, they should remain out of school until 10 days have passed since the date of their first positive COVID-19 diagnostic test, assuming they have not subsequently developed symptoms since their positive test.
Students must complete the full 14 days of quarantine even if they test negative. A child can return to school, following normal school policies, if they receive confirmation of an alternative diagnosis from a health care provider that would explain the COVID-19- like symptoms, once there is no fever without the use of fever-reducing medicines and they have felt well for 24 hours.
UCPS is working with Public Health Officials on details regarding communication of COVID-19 positive cases within our school. I will share more information as it becomes available.
The implementation of additional safety protocols will no doubt have an adverse impact on instructional time. I cannot elaborate on this point until students are in the building and our staff works through each of these new processes. Of course it will take more time away from instruction with one hundred percent of the students present.
Transportation will be provided for students. I believe that all parents will receive a survey soon to confirm your need for UCPS transportation. Bus seating will be limited to one student per seat and face coverings are required. Siblings will be permitted to share seat on the bus. Parents will be asked to provide an attestation form to confirm that your child does not have any symptoms. This is necessary because students will board the bus before undergoing the temperature check and the symptom screening which will occur at school. Parents will be provided this form and it will only need to be submitted one time for the school year, unless the guidance changes. Parents will acknowledge that they must comply daily by sending ONLY asymptomatic students on the bus. Buses may run multiple routes to transport students, due to seating capacity limitations, which could also impact arrival times at school as well as afternoon drop off times. Transportation is offered for all UCPS families. You may opt out for a period of time and then make a new request for transportation. Be aware that assignment to a bus is not immediate and make take a few days to implement.
The Antioch Cafeteria will continue to provide meal options for students. Food service will be designed to eliminate the transmission of germs. Students will not serve themselves as they have in the past. All supplemental sales such as chips and cookies will be suspended. Students will pick up lunch and/or breakfast in the cafeteria and will eat in the classroom. All staff will take precaution and make the appropriate arrangements for students with food allergies to provide for a safe environment.
During Plan B our school will continue to focus on instructional time. The school day will look very similar to normal with one exception… far fewer students.
Here are a few examples of remote learning schedules. Sample # 1 will represent what the day will look like to begin the year and our school will make efforts to transition to a schedule more closely aligned with Sample # 2.
Fifth Grade Remote Learning Daily Schedule Sample #1

Fifth Grade Remote Learning Daily Schedule Sample # 2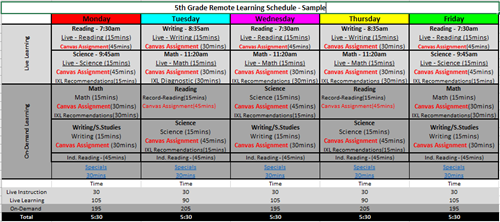 Kindergarten Remote Learning Daily Schedule Sample # 1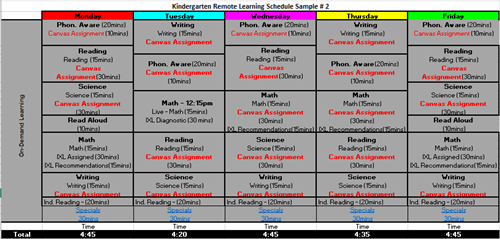 Kindergarten Remote Learning Daily Schedule Sample # 2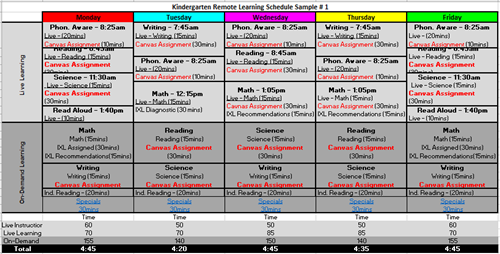 Students will attend a full day of school and will participate in Reading, Math, Writing, Science and Social Studies. Students will have at least one recess per day and will attend special area classes such as Art, Music, P.E., Computers, Media, Brain House, Counseling and Maker Space (K-2 students only). Social distancing guidelines will be followed at all times. Students whom are attending school "face to face" follow a normal schedule. Students who participate in remote learning will have schedules such as those shown above. Friday's will be utilized for a combination of "live" and "on-demand" remote instruction. Teachers will conduct at least one "live" small group lesson with every student on Friday.
Students in fifth grade will change classes for departmentalization. Students in fourth and fifth grade who qualify for AIG or Advanced Math will also change classes. All students in grades K-5 could potentially change classrooms, our staff will continue to explore these options and balance the risk/reward of such decisions. Parents will be notified if your child will change classes. This will give you the ability to decide if remote learning is a more viable option for your family. Changing classes for specific subjects would permit teachers to group students of similar abilities which may prove extremely difficult with a small number of students, none of whom are working at a similar level.
Teachers at the same grade level will present lessons and content for both "face to face" and remote learning that is very closely aligned. Our teachers plan lessons, resources and assignments collaboratively. Our teachers will thoughtfully provide resources for students due to limited "face to face" interactions, which would include things such as sending home a larger numbers of books than normal for students to read.
Assignments will be due daily similar to how a traditional school day would operate, however teachers will provide consideration for working parents who may want support students over the weekend with completion of assignments. Individual teachers will provide more information with parents regarding assignment submission and deadlines.
IXL learning and other instructional resources will continue to be available to parents. Our staff is mindful of the need to support parents without overwhelming them with various websites and login credentials. Teachers will provide daily office hours to connect with students who are participating in remote learning. Teachers will also be accessible via email. Teachers will not be expected to provide their cell phone numbers or be available 24/7.
Before discussing the specifics of remote learning I want to share information that has been gathered regarding remote learning. I am sharing a very good article from Education Next, What We've Learned from Distance Learning, and What it Means for the Future. The article focuses on findings from The Center on Reinventing Public Education. This group recently conducted a national survey to capture data from across the county. It paints a powerful picture about how challenging distance learning has been. Here is a summary of the five major points gathered from the survey and a brief description of how our school plans to respond. Please keep in mind these findings did not include teachers balancing remote learners with "face to face" learners.
Balance Live Teaching and Flexible Learning. The most successful schools use a combination of the two approaches to support learning. Our staff has developed extensive plans to support remote learners with "live" instruction as well as "on-demand" instruction. Teachers will begin the year with a predominantly "on-demand" approach due to the presence of "face to face" learners in the classroom as well as students learning from home. Our goal will be to gradually increase the amount of "live" remote instruction, but continue to maintain a balance of "live" and "on-demand" to meet the needs of all families.
Get Better at Remote Teaching through Coaching and Observations. Our staff will receive feedback and coaching regarding remote teaching which will improve the instructional process. Teachers needs feedback from students, parents, colleagues and administration to continuously improve.
Make Student Learning Active, Even if Via Computer. Teachers will connect live daily with remote learners to provide feedback and answer questions. These efforts will evolve over time and will be balanced with the needs of students who are participating in a "face to face" environment.
Don't Make Teachers Reinvent Alone. Our staff will continue to collaborate to improve our daily "face to face" and remote instructional processes.
Figure Out How to Build Relationships Remotely. Our staff recognizes that relationships are difficult to forge in a remote environment or even "face to face" one day per week. Teachers will send pre-recorded messages to students during the weeks of July 27th, August 3rd and August 10th. These efforts should provide students with encouragement and a feeling of comfort to start the new school year.
Families may choose to send their child one day per week or they may choose to participate in remote learning five days a week. Students will be assigned which day they will attend each week. Students will be assigned their day by following an alphabetic assignment system. It is my goal to notify you which day your child will be assigned by July 27th. Your child will attend on the same day each week. If your child is assigned to attend school on Monday of each week and Monday is a Teacher Workday or Holiday… your child will not attend school for "face to face" instruction for that week. The Weddington Cluster Schools will work collaboratively to assign all siblings in the same family to the same day. Some parents have asked that I assigned siblings different days to help parents better manage remote learning. I will certainly do my best to accommodate requests. Please understand that our school has more than 900 students… I may not be able to accommodate all requests. I want to clarify… I don't accept nor will I honor requests for your child to be placed with a specific teacher. Students cannot miss the assigned day for "face to face" and make it up on another day within the same week.
The content for remote learning activities "live" and "on-demand" will be the same as the "face to face" instruction with the natural limitations that will exist with online learning such as the students ability to scan the room, difficulty connecting with peers and delayed feedback just to name a few. Remote learning activities will be designed for students to complete independently. All elementary students require various amount of support to complete work. I would suggest that you sit with your child during the first few days of remote instruction to determine how and when to provide support.
UCPS is planning to provide each second, third, fourth and fifth grade student with a chromebook. Students will be permitted and encouraged to take these devices home. Although UCPS is not offering a device for Kindergarten and First Grade students, I will do my best to accommodate requests from parents if a device is needed. Click this link to request an electronic device for a Kindergarten or First Grade Student.
If a parent is considering purchasing a device for their child to participate in remote learning… I would highly recommend a tablet and not a laptop for Kindergarten and First Grade students. Tablets are consumer devices which are better for younger students. UCPS feels confident that the infrastructure in place, including internet bandwidth capability, will be sufficient to provide for various types of teaching and learning.
Attendance will be taken daily. Your child does not have to be in the building to be counted present. Attendance will be based on participation in remote learning activities.
After releasing more details about Plan B and Plan D on Friday, UCPS received many calls and emails with questions. I want to clarify a few areas related to the plans and instructional models.
Union County Public Schools is operating from two instructional models—Plans B and D.
If you intend for your child to come to school one day a week and work remotely on the other four days, this is Plan B, the option with a hybrid of in-person and remote learning for all grades.
If you do not intend for your child to attend school and work remotely five days a week, this is Plan D-Virtual Academy for grades 2-12. Parents can apply for the Virtual Academy July 20-26 via Scribbles (https://ucpsncc.scriborder.com/).
Our administrative team is working on staffing, schedules and teacher assignments.
We strongly encourage you to complete the Return to School/Transportation Survey to help with planning for our school. If you have questions about the plans or need to discuss an alternate plan for your child, please contact me (tom.childers@ucps.k12.nc.us).
UCPS provides direct services for students in fourth and fifth grade who qualify for Academic & Intellectually Gifted (AIG) and Advanced Math. UCPS will soon provide information regarding AIG and Advanced Math Testing. Both AIG and Advanced Math students will receive "face to face" and remote instruction. Antioch will communicate with Fourth and Fifth grade parents regarding academic placements sometime within the next two weeks. I expect testing to be offered prior to the beginning of the school year. I will provide details once they are available.
Students who qualify for services through the Exceptional Children's Program will be provided services. Direct services for Reading, Math or Writing will be delivered by our EC staff in a combination of "face to face" or remote. Students who receive support services such as speech, occupational therapy or physical therapy will receive services in a combination of "face to face" or remote. The individual support services staff will coordinate their schedules and communicate with parents the details of these services. Students who receive EC services will receive those services even if they choose a full remote model.
Antioch Elementary has a strong Dual Language Immersion Program. Students may continue to participate in the DLI program even if they choose remote learning five days per week. The daily schedule for DLI will resemble the sample schedules that were shared above. DLI schools are working to provide some solutions for additional "live" remote instruction to engage students with the acquisition of the second language. Many parents have expressed a concern about the need for language support and I completely agree. It is possible that UCPS may provide some services to support DLI students during remote learning, even if a parent chooses remote learning for the entire school year. Students will not be exited from the DLI program because they choose remote learning.
Some parents within our school have inquired about the possibility of students attending more than one day per week if a high percentage of families choose full remote. At this point, one day is the commitment and UCPS officials are going to consider bringing additional students into the building in a few weeks.
The Antioch Elementary PTO continues to be a great partner to the school. The PTO provides financial support that has permitted our school to order web cameras for every classroom. Unfortunately, these items are on back order. I hope to receive them by September. The Antioch Elementary PTO has shared the Antioch Parent Network. This resource has been created by the Antioch Elementary PTO for parents to connect with other families for the purpose of arranging child care during remote learning days. Neither Antioch Elementary PTO, Antioch Elementary nor UCPS takes any responsibility for this network. This Antioch Parent Network is an optional service provided to the community.
Antioch Elementary has released Student Supply List. In addition to these items, parents should include face coverings for your child. Antioch will provide each child with a lanyard to wear around their neck. The lanyard can be clipped to the face covering to help your child manage the face covering. You may send a small personal bottle of hand sanitizer with your child. This cannot be shared with other students. The school will provide hand sanitizer in each classroom. Students will also be encouraged to wash hands frequently during the day.
I do believe that the Antioch After School Program will operate. I cannot respond to questions regarding capacity or availability at this time. I will share that information once it is available.
Many of my responses are based on current guidance and many items have changed multiple times since June and are therefore subject to change.
Thank you for supporting our school - working together as one team on one mission, we are meeting needs, challenging minds and celebrating accomplishments.
Until next time… Have a great day!