Messages from Mr. Childers
Message from Mr. Childers
January 29, 2023
Hello Parents,
This is Tom Childers contacting you from Antioch Elementary. The UCPS Board of Education has approved a NEW calendar for the 2023 - 2024 school year.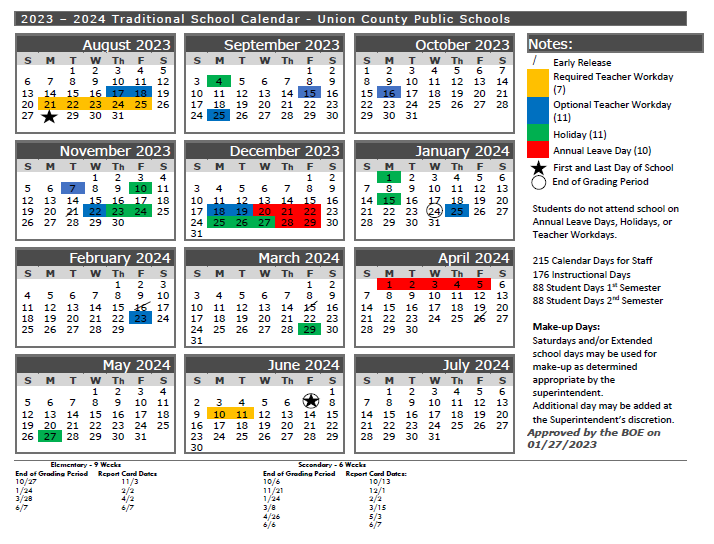 The second semester of the school year begins on Monday. The school year has reached the halfway point and we are all proud of our school. Please take a few moments to provide feedback to assist our efforts of continuous improvement by completing this survey. The Dual Language Advisory Council will meet on Tuesday. You may email your grade level representatives with questions for the team to discuss.
Kindergarten - Kristen Johnson (kristen.kavanagh@gmail.com)
First Grade - Rachael Weiss (rgray28@gmail.com)
Second Grade - Stephanie Fox (stephaniemfox11@gmail.com)
Third Grade - Sarah Miller (sarahemiller725@gmail.com)
Fourth Grade - Melissa LaBue ( Melissa.LaBue@gmail.com)
Fifth Grade - Kimberly Church (kimberlycrooks@hotmail.com)
Do you have a child ready for Kindergarten? Registration for the 2023 - 2024 school year will begin on Wednesday. All registration is completed online through scribbles. Please use this link https://ucpsncc.scriborder.com/. Parents may learn more about Kindergarten Registration by clicking this link.
Students will receive the grade grading period report card on Friday. Please take time to review the information that will accompany the report card.
Come bring your family and friends to see Antioch Elementary's production of "Annie JR"! Performances are Friday, February 3rd at 7pm and Saturday, February 4th at 2pm. All performances are at Weddington High School. Tickets are $5 with cash or check at the door or click on the link below to pre-purchase your tickets online. Admission is free for UCPS employees and children under 5. We hope to see you there!
Click here to purchase your tickets.
The Harlem Wizards are coming to town on Friday, February 3rd at Sun Valley High School. Purchase a ticket to see a night full of tricks, hoops and alley-oops! Purchase a ticket between now and Wednesday and receive a chance to win a FREE Wizards basketball!
Purchase tickets online at: https://pretix.eu/harlemwizards/indiantrail/
Antioch PTO Click here to visit the PTO Website.
Please connect your Harris Teeter account to Antioch. The code is 5615. This is "free money" for our school.
Contacting the Principal
Please include the following information when emailing (tom.childers@ucps.k12.nc.us) me with a question or concern.
Child's Name

Teacher Name

Grade and

Your phone number
This information will allow me to respond to your question or concern more quickly. Parents may access all archived messages on the school website. Our school phone number is 704 296-3005. I strongly encourage you to listen to your voice message before returning a missed call from the school. Antioch Elementary has nearly a hundred staff members and it is sometimes very difficult for our office staff to determined who called you. Please note that our school receives many phone calls each day.
Attendance emails go to deirdra.bortny@ucps.k12.nc.us
Transportation changes go to rhonda.young@ucps.k12.nc.us
School Nutrition
Our school serves breakfast from 7:00am - 7:20am. Students who arrive in the cafeteria after 7:20am will not be permitted to eat breakfast. Lunch is served daily and you may click here to view the menu.
Parents may use this link to access more information about School Nutrition Services. Click the School Nutrition Services Information Link.
Parents are permitted to have lunch with their child (M-Th) - SEE THE SCHEDULE BELOW. Students may have one visitor due to seating limitations. Lunch with your child is open on Monday through Thursday ONLY.
Family Rotation for Lunch:
Week of January 30th (M-Th)- Families with the last name of A-E
Week of February 6th (M-Th) - Families with the last name of F-K
Week of February 13th (M-Th) - Families with the last name of L-Q
Week of February 20th (M-Th) - Families with the last name of R-Z
Dates of Interest:
2/9 - PTO Board Meeting
2/16 - School Improvement Team Meeting
2/17 - Early Release
2/27 - Optional Workday
2/28 - 3/3 - Read Across America
3/8 - 3/16 - Spring Bookfair
3/16 - Early Release Day
3/23 - School Improvement Meeting
3/24 - Bingo & Baskets
3/28 - Spring Pictures
3/28 - DLI Advisory Council
3/30 - 1st Grade Musical Performance
3/30 - Wake Up to AG Day (Third Grade)
Thank you for supporting our school - working together as one team on one mission, we are meeting needs, challenging minds, and celebrating accomplishments.
Until next time… Have a great day!