UCVirtual Student Honorees
UCVirtual: Student of the Six Weeks (3/20/2017)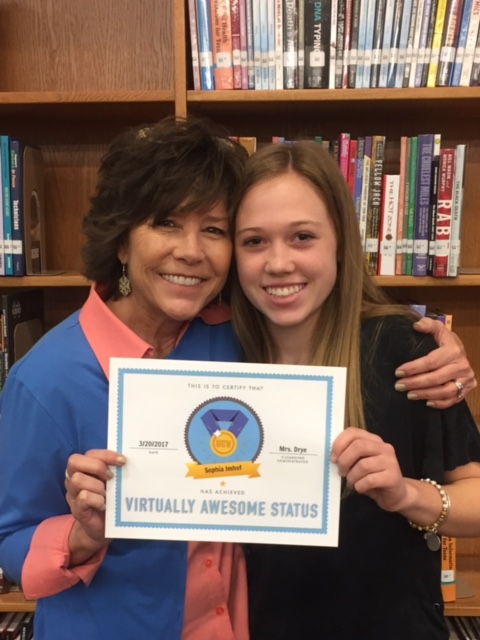 UCVirtual is the blended learning program offered to students by Union County Public Schools. In an effort to recognize the outstanding progress and success of our virtual students, we will be awarding students at the end of each grading mark that have been nominated for being "Virtually Awesome!" Students are nominated by their teachers for demonstrating high standards in both academics and character. At the end of the school year we will honor one student as the UCVirtual Student of the Year.
UCVirtual is proud to recognize Marvin Ridge freshman, Sophia Imhof, for being our "Student of the Six Weeks!" Sophia is a straight A student and is currently taking Honors Leadership Exploration taught by Christi Hearne. Mrs. Hearne did not hesitate when it came to nominating Sophia for this award. "What's most impressive to me is her self discipline to submit quality work daily. For the past 6 weeks, she has submitted all of her assignments on the day they were opened," stated Hearne.
Honors Leadership Exploration is an elective course made available to students in grades nine through twelve. Hearne also had this to say about Sophia, "Sophia is a freshman. This is her first online class and she has the second highest grade in the class."
Sophia was awarded her certificate for being chosen as a student of the six weeks during her virtual lab time at Marvin Ridge High. UCVirtual is proud to honor her with #VirtuallyAwesome status for the 2016-2017 school year!
Please follow our Twitter account @UCVirtualNC to stay informed about our program, get important updates, and to help celebrate our students and teachers.