UCVirtual Student Honorees
UCVirtual: Student of the Six Weeks (3/24/2017)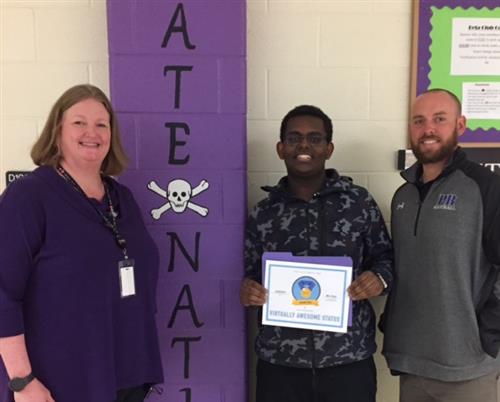 UCVirtual is excited to honor Porter Ridge senior, Joseph Ezaz, for being our"Student of the Six Weeks!" Joseph is pictured with his online Math III teacher, Dr. Wade, and his lab facilitator, Shayne Milligan.
"Joseph is conscientious and submits work that is thorough and exemplary. He takes the time to digest the presentations and then creates well-planned products for his assignments. Joseph also takes the time to provide thoughtful and meaningful feedback to his peers in the discussion forums." These comments are straight from Dr. Wade on why Joseph stands out among his peers and is deserving of being recognized.

Joseph is an Honors student and is currently enrolled in two Advanced Placement courses. "Instead of looking for the quickest was to complete a task, Joseph seeks to complete each task with precision, consistency and excellence," comments Dr. Wade. Joseph was recognized in front of his peers and awarded a certificate for being "Student of the Six Weeks." Joseph also earns the title of being #VirtuallyAwesome with Union County Virtual!
Please follow our Twitter account @UCVirtualNC to stay informed about our program, get important updates, and to help celebrate our students and teachers.