UCVirtual Student Honorees
UCVirtual: Student of the Six Weeks (5/08/2017)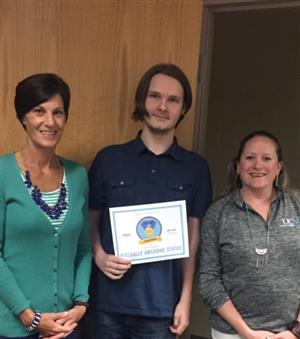 UCVirtual is excited to honor tenth grader Carson Dickey from Weddington High School. Carson is pictured with Weddington's Lab Facilitator, Christine Morgan and his UCVirtual Mythology teacher Allison Sweeney.

"Seldom does a teacher have a student, not only go above and beyond, but also, let the work he completes in a course demonstrate the kind of person he truly is. Carson is that kind of student, he puts 150% effort into his work." This reflection is from his teacher, Allison Sweeney. She went on to say, "He takes an assignment like a Google presentation and instead creates a full out video! As a teacher, you hope that your students will be engaged with the material, but as an aesthete , the student who is able to internalize the material in order to expose their creative underbelly is truly deserving of a reward." At Union County Virtual we encourage students to think outside the box and strive to do more. Carson Dickey is truly a student who is representative of being #VirtuallyAwesome!

Carson was given a certificate and a #VirtuallyAwesome t-shirt in front of his peers for being a UCVirtual Student of the Six Weeks.
Please follow our Twitter account @UCVirtualNC to stay informed about our program, get important updates, and to help celebrate our students and teachers.