UCVirtual Student Honorees
UCVirtual: Student of the Six Weeks (5/08/2017)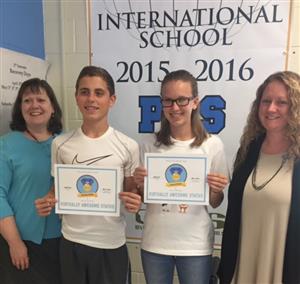 UCVirtual is proud to recognize a set of twin tenth graders, Nicholas Mullis and Lauren Pollock, from Piedmont High School for being selected as "Students of the Six Weeks". Nicholas and Lauren are pictured with their AP Environmental Science teacher Kathy Glasheen and Piedmont's Lab Facilitator, Tabitha Drake.

"They are both taking very rigorous course loads, including Honors Chemistry and AP Government in addition to APES; they are also involved in sports and clubs at Piedmont," stated K. Glasheen. "Lauren and Nicholas have truly embraced the concept of independent learning through online courses. They typically begin working on their assignments as soon as they are opened and consistently submit exceptional work. Their assignments demonstrate high quality thinking and synthesis of their extended individual research. They have each had one of the highest averages in the APES course all semester. Nicholas and Lauren are exceedingly diligent and focused, always use their time in the lab wisely, use feedback to improve their understanding, demonstrate a strong work ethic to their peers and are genuinely personable, polite and kind."

Lauren and Nicholas were recognized in front of their peers and each received a certificate and a #VirtuallyAwesome t-shirt for being selected as "Students of the Six Weeks."


Please follow our Twitter account @UCVirtualNC to stay informed about our program, get important updates, and to help celebrate our students and teachers.