UCVirtual Student Honorees
UCVirtual Student of the Six Weeks (3/29/18)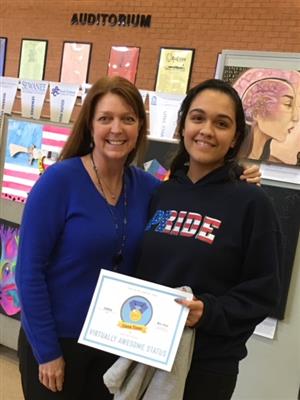 We are very excited to announce that Ciena Tineo is the Union County Virtual Student of the Six Weeks! Ciena ia an eleventh grader at Marvin Ridge High School. She was nominated for this award by her Career Management instructor, Ms. Kelley Gates.
Ms. Gates is not only impressed by her academic work but her individual character is outstanding as well. "Ciena is one of the most thorough, conscientious students I've ever had. Her work is turned in on time each day, she always puts 100% effort into every assignment she completes, and she has maintained a 100% average throughout the semester. In addition, she is a lovely young woman who puts others before herself," stated Gates.
Ciena was given a certificate and a #VirtuallyAwesome t-shirt in front of her peers for being the UCVirtual Student of the Six Weeks. Ciena is a leader in and out of the classroom. When Ms. Gates found out Ciena was going to receive this award she said, "She is very deserving of this honor!" Congratulations Ciena, we are very proud of you!
Please follow our Twitter account @UCVirtualNC to stay informed about our program,
get important updates, and to help celebrate our students and teachers.