UCVirtual Student Honorees
UCVirtual Student of the Six Weeks (5/18/18)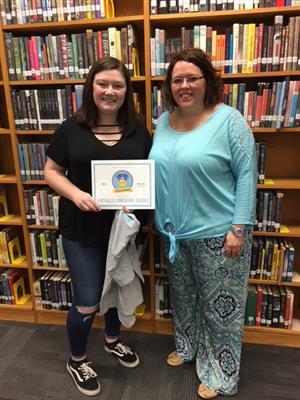 Union County Virtual is proud to announce Peyton Thomas as the #VirtuallyAwesome Student of the Six Weeks! Peyton is a junior at Forest Hills High School. She was nominated by her UCVirtual English III teacher, Nicole Shroyer.
Ms. Shroyer did not hesitate when it came time to nominate a student for this honor.
"Peyton is a fantastic thinker! Her work is always complete and thorough. Her entire schedule is online this semester, as she is taking 2 or 3 courses through Career and College Promise, and she is excelling at all of them. Peyton is incredibly driven and earned over a 30 on the ACT that was given in February. SHe was also the Stage Manager for a recent production at Forest Hills High School. While she might sound like a lot of other nominees, Peyton has done all of this while battling some health issues. For at least a month, Peyton was traveling more than an hour a day to treatment. However, she never made excuses and never even asked for extensions. She is a remarkable young woman who has greatly impressed me!"
Peyton was given a certificate and a #VirtuallyAwesome t-shirt to recognize her as being the UCVirtual Student of the Six Weeks. Great job Peyton! You make us proud!
Please follow our Twitter account @UCVirtualNC to stay informed about our program,
get important updates, and to help celebrate our students and teachers.