UCVirtual Student Honorees
UCVirtual Student of the Year 2018 (5/21/18)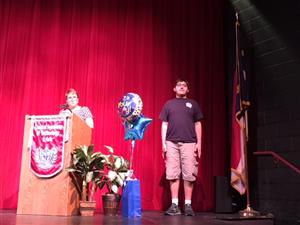 Union County Virtual awards one student each year as the UCVirtual Student of the Year. Jake Karas, a Central Academy sophomore, was presented with this honor at CATA's Academic Awards Ceremony on Monday, May 21st, 2018. Jake received a framed certificate and a #VirtuallyAwesome t-shirt to recognize his achievements with Union County Virtual.
UCVirtual has had an enrollment of over 1,500 students this academic year. Jake was selected out of all of these students! UCVirtual teachers were asked to nominate one student to be recognized as the UCV Student of the Year. In order to be nominated, students had to show a commitment to academic achievement, excellence in blended learning and outstanding personal character. Nominations were then narrowed down and voted on by the E-Learning team.
Jake was nominated by his teacher, Dr. Tamara Wade. Dr. Wade has had the pleasure of instructing Jake in Math II and Math III. Dr. Wade had this to say in regards to Jake:
"Jake has been with me for two courses, Honors Math II and Honors Math III. There have been several qualities that have set Jake apart, but his persistence and dedication to doing his best are perhaps the most unique. While many students become frustrated and give up, Jake continues to persevere until he truly understands a concept. As a result, he has built a mathematical foundation that allows him to excel as a mathematician. Jake is, without question, my most inquisitive student, and I believe he looks forward to my weekly visits as much as I do! Jake's goal is to work at Disney as an Imagineer, and given his strong work ethic and determination as well as the support he has from family, I believe he can achieve whatever he sets his mind to."
Brenda Drye, E-Learning Administrator, presented Jake with his award. "We are very proud of Jake and honored that he takes our courses. We look forward to working with him more and seeing all the amazing things in store for him!"
Congratulations to Jake Karas on being the 2018 UCVirtual Student of the Year!
Please follow our Twitter account @UCVirtualNC to stay informed about our program,
get important updates, and to help celebrate our students and teachers.