UCVirtual Student Honorees
UCVirtual Student of the Six Weeks 12/13/18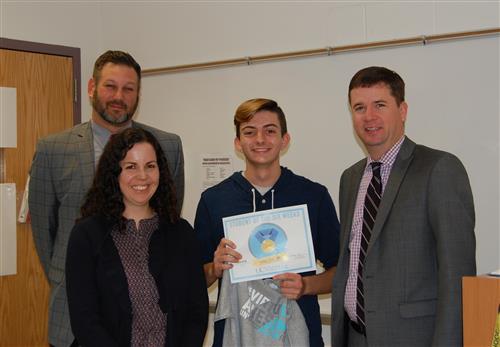 Union County Virtual is excited to present our Student of the Six Weeks, Tyler Johnson! Tyler is a junior at Cuthbertson High School. He was nominated by his Honors English III teacher, Mrs. Jill Grossoehme. The #VirtuallyAwesome Student of the Six Weeks is selected from all of the current UCVirtual students and they are nominated by their teachers for this recognition.
Mrs. Grossoehme had several complimentary things to say about Tyler. "Tyler is an outstanding student. But not only is he timely in his work and does he produce good work, he's so pleasant to talk to. While reading The Great Gatsby, he annotated his text and was always prepared with question that challenged me when I came to see him. We had a great discussion about the novel which I truly appreciated. He's very thoughtful about his coursework and does his best in every assignment," stated Grossoehme.
Tyler was presented with a certificate and a #VirtuallyAwesome t-shirt in the E-Learning Lab at Cuthbertson High. He received this recognition in front of his peers with his teacher Jill Grossoehme, Principal Mr. Jeffery Stout, and Superintendent Dr. Andrew Houlihan. Congratulations Tyler!
Please follow our Twitter account @UCVirtualNC to stay informed about our program,
get important updates, and to help celebrate our students and teachers.