UCVirtual Student Honorees
UCVirtual Student of the Six Weeks 2/11/19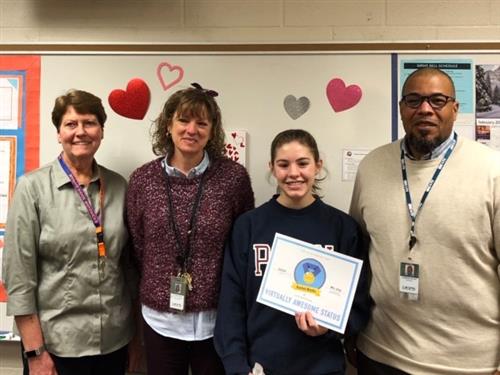 Union County Virtual is proud to announce that Rachel Works is the #VirtuallyAwesome Student of the Six Weeks! Rachel is a sophomore and was nominated for all her hard work by her Earth and Environmental Science teacher, Mr. James Sebastian Byers. Union County Virtual teachers nominate students from their courses at the end of each six weeks. A winner is selected from all the nominations across the county.
Mr. Byers was eager to nominate Rachel for this award due to her classroom performance. "Rachel has been a model student throughout the course. Her work will serve as my example work template for many assignments. She shines especially when it comes to her expression of thoughts on many environmental issues. In both content and style, Rachel's work demonstrates a mastery of beyond her years. I often feel like I am reading the work of a seasoned collegiate student," stated Byers in his nomination. Knowing Rachel as a person and a student he said, "I think no matter what field of study she will pursue in college, we will one day be reading about this student's accomplishments!"
Rachel was presented with a certificate and a #VirtuallyAwesome t-shirt in the E-Learning Lab at Marvin Ridge High. She received this recognition in front of her peers with Lab Facilitator Sherry Killion, Director of Secondary Education Dr. Laurel Healy, and her teacher Sebastian Byers (pictured left to right) . Congratulations Rachel, we are proud of you!
Please follow our Twitter account @UCVirtualNC to stay informed about our program,
get important updates, and to help celebrate our students and teachers.