UCVirtual Student Honorees
UCVirtual Student of the Six Weeks 3/25/19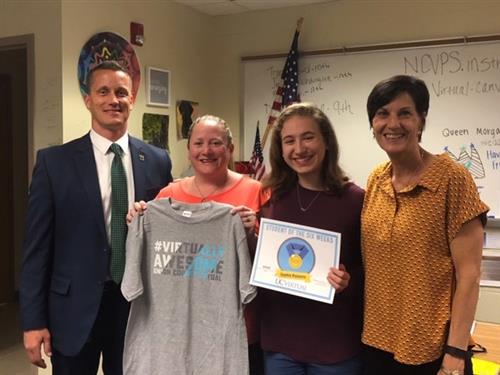 Union County Virtual is pleased to announce that Sophia Russano is the #VirtuallyAwesome Student of the Six Weeks! Sophia attends Weddington High School and is a member of the senior class. She was nominated by Mrs. Allison Sweeney, her UCVirtual Mythology instructor.
"Sophia is any teacher's dream student! She puts forth 200% in every assignment she completes and she replies to all of my feedback appreciatively. She is enthusiastic about the course material and really helps encourage others and add to class discussions," stated Sweeney in her nomination. Sweeney was excited to add, "I highly recommend Sophia for student of the 6 weeks- she truly excels!"
Sophia was presented with a certificate and a #VirtuallyAwesome t-shirt in front of her peers in the E-Learning Lab at Weddington High School on March 25th, 2019. There to help celebrate her achievements were principal, Dr. Jay Jones, Mrs. Allison Sweeney her UCVirtual teacher, and Mrs. Christine Morgan her Lab Facilitator. Congratulations Sophia, we are very proud of you!
Please follow our Twitter account @UCVirtualNC to stay informed about our program,
get important updates, and to help celebrate our students and teachers.