UCVirtual Student Honorees
UCVirtual Student of the Six Weeks, December 6, 2019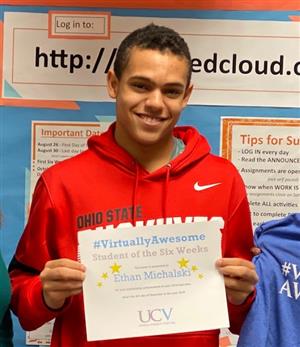 Union County Virtual is pleased to announce that Ethan Michalski is the #VirtuallyAwesome Student of the Six Weeks! Ethan is currently a junior at Marvin Ridge High School. He was nominated for Student of the Six Weeks by his Honors Business Law teacher, Ms. Kelley Gates.
"Ethan is one of the most conscientious students I have ever taught. He puts 100% effort into every single assignment and quiz that he completes. He takes extensive notes on each and every lesson and shows an understanding of the material that is above and beyond most of his peers. It is rare for a student to earn a 99% in Business Law for the first 6 weeks, but Ethan accomplished this. His ability to critically think through his assignments, his drive for excellence, the fact that he always turns in his work on time, and his wonderful attitude make him a perfect candidate for #VirtuallyAwesome student of the 6 weeks," stated his teacher Ms. Gates.
Ethan was presented with a certificate and a #VirtuallyAwesome t-shirt in front of his peers in the E-Learning Lab at Marvin Ridge High School on December 6th, 2019. There to help celebrate his achievements were Ms. Killion, his Lab Facilitator, Kelley Gates, his instructor, and Celestine Peters, his Guidance Counselor . Great job Ethan! We are so proud of you for being the UCVirtual Student of the Six Weeks!
Please follow our Twitter account @UCVirtualNC to stay informed about our program,
get important updates, and to help celebrate our students and teachers.