UCVirtual Student of the Six Weeks January 27, 2022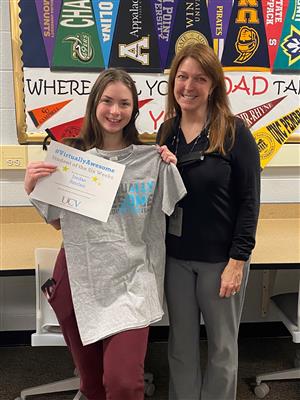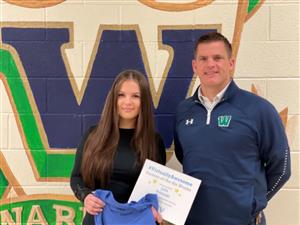 UCVirtual is proud to recognize Jordan Sinclair and Julia Rybinski for being the #VirtuallyAwesome Students of the Six Weeks for the T3 grading term! UCVirtual is
our in-house blended learning program built by UCPS teachers and taught by UCPS teachers.
Jordan Sinclair is a senior at Cuthbertson High School. She took UCVirtual Career Management taught by Ms. Kelley Gates. Ms. Gates nominated Jordan for this recognition based on her achievements in the classroom. "Jordan puts 100% effort into every single assignment she completes. Her attention to detail is unmatched by her peers. She completed every single assignment on the day that it opened, and was my only student to earn 100% in all of my courses. Not only is she a great student, but she's a wonderful young lady. She definitely deserves to be recognized. I would like to add that she has maintained a 100% average for the entire semester!" Her teacher had nothing but fabulous things to say about Jordan!
Julia Rybinski is a tenth grader at Weddington High School. Julia was a student of Mr. David Malady and was taking UCVirtual Arts Appreciation. Mr. Malady had this to say in his nomination for Julia, "Julia overcame a number of challenges this semester. She worked diligently and on a modified schedule to complete her assignments each week. She finished strong, made an "A" for the semester and was able to exempt her final exam!" Mr. Malady was very proud of all of Julia's hard work and dedication!
Jordan and Julia both received a #VirtuallyAwesome Certificate and UCVirtual #VirtuallyAwesome t-shirt to recognize them as outstanding students! We are extremely proud to honor these students and their achievements, they are truly #VirtuallyAwesome!
Please follow our Twitter account @UCVirtualNC to stay informed about our program,
get important updates, and to help celebrate our students and teachers.