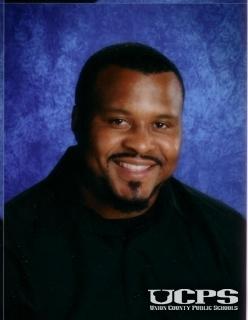 Phone:
Email:
Degrees and Certifications:
Adrien Porter, Asst Principal

Adrien D. Porter was born and raised in Buffalo, NY where he attended Lafayette High School. He went on to pursue his Bachelors of Science Degree in Business Education at South Carolina State University, home of the MIGHTY BULLDOGS! At S.C. State University he was an active participant in many organizations and campus activities. Two of his most memorable experiences were being a member of the SCSU Cheerleader Squad and a proud and still active member of the most prestigious fraternity in the WORLD Phi Beta Sigma Fraternity Incorporated.

Mr. Porter's teaching career began in August of 2002 at Forest Hills High School where he taught business and computer courses. While at Forest Hills, he has been an advisor, mentor, has led and participated in a variety of professional development for both students and staff. He has received numerous awards and accolades while at Forest Hills but none stands out more than being voted by his peers Teacher of the Year for the 2009-2010 school year. In 2006, Mr. Porter obtained his Master's degree in Education Supervision at the University of Phoenix. It was not until January of 2012 that he stepped into the role of school administrator as Assistant Principal of Forest Hills High School.