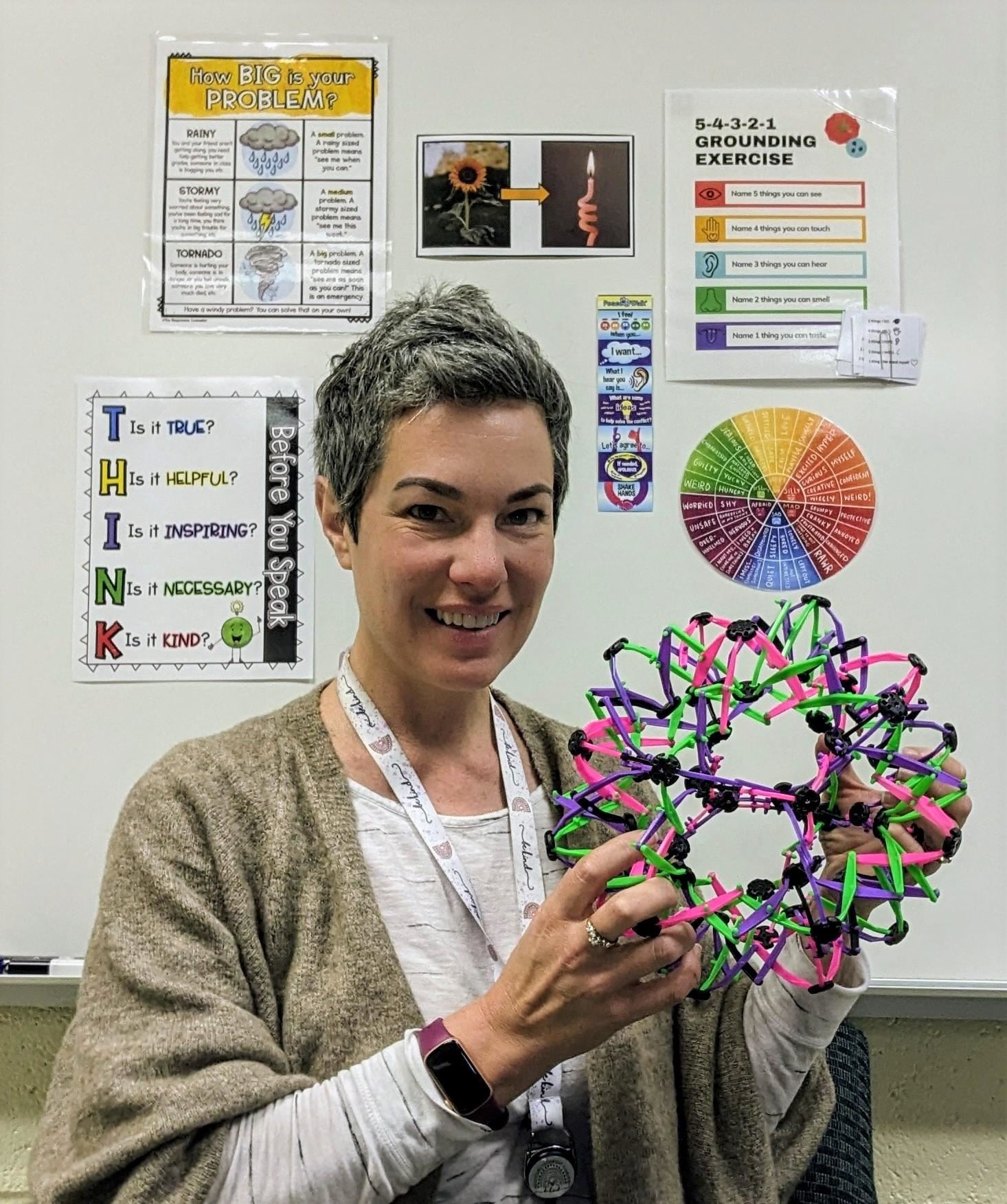 Phone: 704-296-3081
Email:
Degrees and Certifications:
Ms.

Rene Katkowski

Hello! My name is Rene Katkowski and I am your child's school counselor. I began working at Wesley Chapel in the fall of 2022 and immediately felt part of a strong, focused, and thriving community whose goal is your child's academic and social/emotional success. Before becoming a school counselor I worked as an educational assistant in the special needs community across a few educational settings. As an educational support and advocate, I found a great reward in helping students and went on to earn my Master's Degree in Education - School Counseling. I am a member of the American School Counselor Association, North Carolina School Counselor Association and am a North Carolina Licensed Professional Counselor.

My program will support and empower all students to determine where their interests, talents, and abilities intersect in order to become thriving adults. I believe a school counseling program should address the academic, career, and social/emotional developmental needs of students. This is best achieved with the involvement of parents, families, staff, and community members that are engaged in the learning process. School counseling is a profession that, to me, combines all the best elements our public education offers: developing moral and ethical minds, supporting their academic success, and guiding them towards right-fit vocational and higher learning desires. My school counseling program will adapt to each unique personality relying on cognitive-behavioral therapeutic approaches with elements solution-focused, brief counseling theories to inform a short-termed, behavior-based, encouraging atmosphere and also guide character development. Additionally, growth-mindset methods reflect my ideals to identify and change maladaptive thinking, perceptions, and behaviors, improve emotional regulation, and develop personal coping strategies.

My most honored title is "mom" and I am a proud parent of two teenagers, Sera and Jack. Sera was my introduction to neurodiversity (#fxsasd), advocacy and the success that can be accomplished when supportive measures and collaboration align. Jack keeps me busy with baseball (#catchermom) and also ensures my lingo stays current (#slay). Creating space to relax, rejuvenate, and prepare for the next school week includes any style of pan-Asian foods, jazz music, witty conversations, and everything in the MCU.

Please feel free to contact me with any questions or concerns, rene.katkowski@ucps.k12.nc.us or 704-296-3081 x 4707.
Confidentiality Statement

School counselors recognize their primary obligation for confidentiality is to the student but balance that obligation with an understanding of the family or guardians' legal and inherent rights to be the guiding voice in their children's lives (ASCA Code of Ethics).

The role of the school counselor in regards to confidentiality is:

To support the students right to privacy and protect confidential information received from students, the family, guardian and staff members
To explain the meaning and limits of confidentiality to students in developmentally appropriate terms
To provide appropriate disclosure and informed consent regarding the counseling relationship and confidentiality
To inform students and the family of the limits to confidentiality when: Student poses a danger to self or others, Court ordered disclosure, Consultation with other professionals in support of the student i.e. colleagues, supervisors, treatment teams, and other support personnel
To keep personal notes separate from educational records and not disclose their contents except when privacy exceptions exist
To seek guidance from supervisors and appropriate legal advice when their records are subpoenaed
To assert their belief that information shared by students is "confidential" and should not be revealed without the student's consent
To adhere to all laws protecting student records, health information, and special services (i.e., HIPAA, FERPA, IDEA)