Return to Headlines
U Awards celebrates excellence in education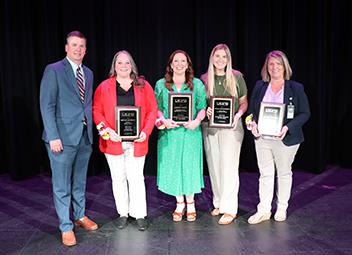 Union County Public Schools (UCPS) hosted its U Awards on May 4 to honor the best in education across multiple categories: Beginning Teacher of the Year, Teacher of the Year, Assistant Principal of the Year and Principal of the Year. It was more than just a celebration of outstanding educators; it was a chance to recognize the hard work, dedication and passion that goes into shaping the next generation of leaders, thinkers and innovators.
Anticipation and excitement filled the night as the finalists, their loved ones and other attendees gathered at the Dowd Center Theatre. The reception was enlivened by a performance from the Benton Heights Elementary Chorus, while the Cuthbertson High School Chorus took to the stage during the event, setting the tone with their captivating renditions of "Blackbird" and "Lully, Lulla, Lullay".
Dr. Andrew Houlihan, the UCPS Superintendent, Kathy Heintel, the Board of Education Chairperson, and Cheryl Konopka, the 2022-2023 Teacher of the Year from Rocky River Elementary, gave remarks before the announcement of the winners.
Heintel spoke about the lasting impact educators make in the lives of students and families by recalling her favorite teacher. She also referenced the many hats that administrators wear while leading their school community. Reflecting on her tenure, Konopka shared the multitude of experiences she was fortunate to participate in, gave words of encouragement about the profession and spoke about new opportunities it opened for her.
"Tonight's U Awards program is a celebration of the outstanding administrators and educators who tirelessly dedicate themselves to shaping the lives of our students. The commitment, passion and hard work of these professionals is an inspiration to us all and I am proud of them. Congratulations to all the finalists and winners," said Dr. Houlihan.
The winners for 2023-2024 in each category are: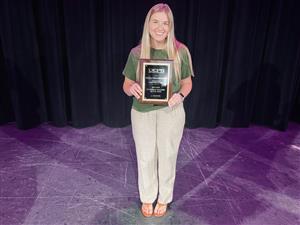 Beginning Teacher of the Year
Nicole Brandhorst, Indian Trail Elementary
Before joining UCPS in 2022, Brandhorst was an academic educator with ABC Educational Services for six years. In that role, she worked with children with special needs, providing engaging recreational opportunities and supporting emotional well-being daily. Brandhorst is an Exceptional Children's (EC) teacher at Indian Trail Elementary, where she focuses on creating a positive and supportive environment for her students. She devotes her time to helping them develop their emotional well-being and gain independence, social skills, peer relationships and self-confidence.
"This is my first year at UCPS and this award feels surreal. I'm actually a Union County kid. I attended Shiloh Elementary and Sun Valley Middle and High Schools. When I graduated, I felt like I wanted to pay it forward. I'm a K-5 self-contained EC teacher, so seeing the tiny steps that are huge milestones for my students daily is rewarding. They continually blow me away."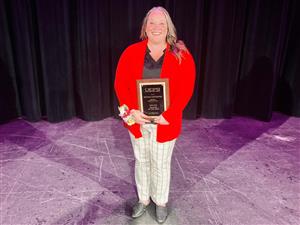 Teacher of the Year
Sarah Lefebvre, Health Sciences Academy at Monroe Middle
Lefebvre is a mathematics teacher at Health Sciences Academy at Monroe Middle School, where she once attended as a student. She has been an educator since 2005. At the beginning of each school year, Lefebvre introduces her students to the Week of Inspirational Math. During this week, they work on lessons developed by Jo Boaler and Cathy Williams of Stanford University, which focus on building a positive math community. The lessons encourage collaborative group work and begin with a hook related to brain research, such as how mistakes can help us learn and how speed is not the most important factor in mathematics.
"I went to Monroe Middle and Monroe High and if you asked me years ago I would have said I'm going to a big city and my life found me back in Union County teaching in my middle school," said Lefebvre. "I was always proud then as a student to be a Red Hawk and being on this side of it makes it even more special. Everything I do is so people know the good that comes from our school."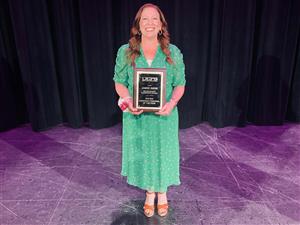 Assistant Principal of the Year
Jamee Giers, Walter Bickett Elementary
Giers has been an educator since 2000 and an assistant principal at Walter Bickett Elementary since 2022. Giers supports highly-qualified educators, data-driven instruction and academic achievement for all students by serving as a mentor and academic leader in the school. She serves as the second and third-grade administrator and literacy lead. Giers is a graduate of the University of North Carolina at Charlotte.
"This is such an honor. UCPS is an amazing place with amazing educators and leaders. I had never imagined being in an assistant principal role but I always looked up to them. Now, I am here. UCPS provides us with support and opportunities to grow. I'm excited to continue to grow alongside students and staff."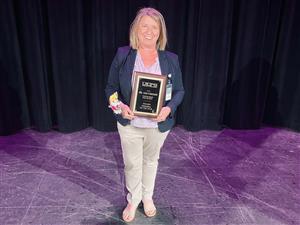 Principal of the Year
Dr. Kim Fisenne, Porter Ridge High
Dr. Fisenne has been the principal at Porter Ridge High since 2018. She has served as a high school principal for the past nine years, as well as, assistant principal at the elementary and high school levels. She began her educational career as a science teacher in a neighboring county and prior to that, worked in a research laboratory studying genetics. During the 2012-2013 school year, she was named UCPS Assistant Principal of the Year, and during her teaching years, she was named West Charlotte Teacher of the Year. During the 2013-2014 school year, Dr. Fisenne was recognized by the North Carolina Association of Student Councils as Richard Cansler Administrator of the Year.
"The people I work with who are principals are incredibly intelligent and hard-working, so to be chosen to represent that group is a humbling experience. I'll carry that with me as I continue in this role representing our district, teachers, principals, students and families. We bring our students to heights they might not even think they can soar to, which makes this a rewarding field."
Each of the winners was awarded a check by the Union County Education Foundation. Brandhorst was granted $500, Lefebvre received $1,500, Giers received $1,000, and Dr. Fisenne was awarded $2,500. The beginning teacher of the year, principal of the year and teacher of the year will represent UCPS in the regional teacher programs.
05/04/2023