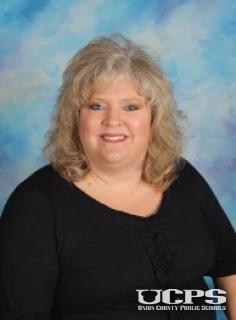 Phone:
Email:
Degrees and Certifications:
Terri Onley

Meet The Counselor……

My name is Terri Onley and I have been serving the New Town community for 10 years. I personally grew up in Charlotte and my husband and I moved to Union County 20 years ago after making the decision that we wanted our children, now ages 19 and 23, to attend Union County public schools. I attended the University of NC at Charlotte where I received a Bachelor of Science degree in Psychology. I continued my graduate studies at Winthrop University receiving a Master of Education degree in school and agency counseling. I am very excited to once again be serving a wonderful school with great students and supportive families.
Thank you for visiting the New Town Elementary School Counselor website.

Elementary School Counselors help children...

Understand the self and develop a positive self-image

Show respect for the feelings of others

Understand the decision-making process

Maintain effective relationships with peers and adults

Gain an understanding of the world of work

Develop effective study skills

Be prepared to make the transition to middle school

What do elementary school counselors do?

Teach classroom guidance lessons
Facilitate short-term small group counseling
Provide immediate and short-term individual counseling
Work collaboratively with teachers and staff
Consult with parents
Provide information and/or referrals for community resources to families

Why do we need elementary school counselors?

A deliberate and comprehensive approach to teaching children social and emotional skills can raise their grades and test scores, increase enthusiasm for learning, reduce behavior problems, and enhance cognitive functioning.
Students who receive social skills instruction do better academically and socially but the reverse is not true (academic instruction does not increase social/emotional skills).
There is a strong connection between emotions and learning. Students who can recognize and manage strong emotions are better learners.
Students who attend schools with a comprehensive guidance program do significantly better on standardized tests than students who attend schools without a comprehensive guidance program. The longer the students are in schools with comprehensive guidance programs, the more they outperform their peers on standardized tests.
Prosocial behaviors exhibited by students in the classroom were found to be better predictors of academic achievement than were their standardized test scores

2016-2017 Character Words

I am…….

Respectful

Responsible

Kind

A Problem-Solver

Empathetic

A Team Player

Honest

A Worker

Strong

Helpful

Human

No Bullies Allowed

What is Bullying?

Bullying is unwanted, aggressive behavior among school aged children that involves a real or perceived power imbalance. The behavior is repeated, or has the potential to be repeated, over time. Bullying includes actions such as making threats, spreading rumors, attacking someone physically or verbally, and excluding someone from a group on purpose.

Signs a child may be being bullied:

Look for changes in the child. However, be aware that not all children who are bullied exhibit warning signs

Some signs that may point to a bullying problem are……

Unexplainable injuries

Lost or destroyed clothing, books, electronics, or jewelry

Frequent headaches or stomach aches, feeling sick or faking illness

Changes in eating habits, like suddenly skipping meals or binge eating. Kids may come home from school hungry because they did not eat lunch.

Difficulty sleeping or frequent nightmares

Declining grades, loss of interest in schoolwork, or not wanting to go to school

Sudden loss of friends or avoidance of social situations

Feelings of helplessness or decreased self esteem

Self-destructive behaviors such as running away from home, harming themselves, or talking about suicide

If you know someone in serious distress or danger, don't ignore the problem. Get help right away.

Signs a child is bullying others:

Kids may be bullying others if they…

Get into physical or verbal fights

Have friends who bully others

Are increasingly aggressive

Get sent to the principal's office or to detention frequently

Have unexplained extra money or new belongings

Blame others for their problems

Don't accept responsibility for their actions

Are competitive and worry about their reputation or popularity

How to talk about bullying:

Parents, school staff, and other caring adults have a role to play in preventing bullying. They can help kids understand bullying, keep the lines of communication open, encourage kids to do what they love, and model how to treat others with kindness and respect.

For more information: www.stopbullying.gov



Confidentiality Statement

School counselors recognize their primary obligation for confidentiality is to the student but balance that obligation with an understanding of the family or guardians' legal and inherent rights to be the guiding voice in their children's lives (ASCA Code of Ethics).
The role of the school counselor in regards to confidentiality is:

To support the students right to privacy and protect confidential information received from students, the family, guardian and staff members
To explain the meaning and limits of confidentiality to students in developmentally appropriate terms
To provide appropriate disclosure and informed consent regarding the counseling relationship and confidentiality
To inform students and the family of the limits to confidentiality when: Student poses a danger to self or others, Court ordered disclosure, Consultation with other professionals in support of the student i.e. colleagues, supervisors, treatment teams, and other support personnel
To keep personal notes separate from educational records and not disclose their contents except when privacy exceptions exist
To seek guidance from supervisors and appropriate legal advice when their records are subpoenaed
To assert their belief that information shared by students is "confidential" and should not be revealed without the student's consent
To adhere to all laws protecting student records, health information, and special services (i.e., HIPAA, FERPA, IDEA)