Event Tickets
Graduation Tickets - (available May 8th-June 6th)
Graduation Ceremony is on Saturday June 10, 2017 7:30 pm at Winthrop Coliseum in Rock Hill, South Carolina. Each student will receive 4 FREE tickets. Students may purchase additional tickets at $7.00 per ticket. All ages are required to have a ticket to enter.
Please note that students will NOT receive their tickets until all past-due fees are paid at the school. It is recommended that students/parents check their parent portal for outstanding charges, or call the school to check with the bookkeeper. It is the responsibility of the family to check prior to purchasing the tickets as NO REFUNDS will be given.
Note - Students will receive all tickets AFTER Graduation Practice (which is mandatory).
Performing Arts Event Tickets
- A number of events sell tickets at the door only. However, large theatrical events will typically offer online sales. Events with online sales will be listed here.
Pre-order here (up to 5 hours prior to the event). You can now pay with a credit card when pre-ordering online. Print out your ticket and bring with you, or have the ticket on your cell phone for admission.
Currently on sale: Spring Musical - Sweeney Todd - Friday 3/24, Saturday 3/25, Sunday 3/26
Thursday 3/30, Friday 3/31, Saturday 4/1, Sunday 4/2
Spirit Wear 2016-2017: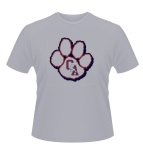 CATA Spirit Wear is available online. Support the Band and CATA and get your spirit on.
To see all available spirit wear for CATA
click here
!!
Support our athletics and our Band of Blue at once by showing school spirit!!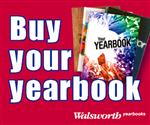 2017 Yearbook
Yearbook sales are in full swing! Yearbooks are $85.00. Order yours today! Order online at https://www.yearbookforever.com (search for CATA) or bring in a check or cash to Ms. Christensen. Make checks out to CATA.
Senior Ads are sold out!

Enter the code cougars16 to upload your own photos to the yearbook!
When paying at the school, please make checks payable to Central Academy.
If you have any questions, please call (704) 296-3088, ext. 7140 or contact Ms. Deb Christensen.
Directions for Uploading Photos for the yearbook:
1) Download the Yearbook Snap app
2) Enter school name: CATA
3) Enter the school code: cougars16
4) Click Submit Photos
5) Click Yearbook Special Requests
6) Click on the + and upload up to 5 photos.