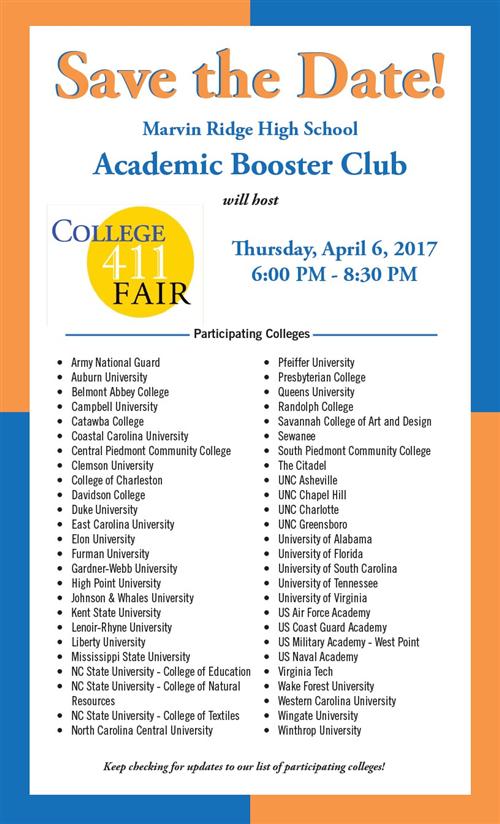 The Marvin Ridge High School Academic Booster Club is a group of parents, students and faculty dedicated to enhancing educational achievement. Our mission is to support and recognize the character and outstanding academic achievements of Marvin Ridge High School students and teachers through positive reinforcement and reward. We believe this type of recognition promoted continued student dedication to academic excellence at all levels of achievement and a strong commitment among teachers.
The Marvin Ridge High School (MRHS) Academic Booster Club supports academic achievement through positive reinforcement and rewards. Our premier event is hosting a 411 College Fair in the spring so that students and parents can get important information from colleges and universities. We also sponsor an academic recognition program, which supports students at all grade and course levels for their achievements in class. Teachers nominate students for a variety of reasons--from being attentive and helpful, to participating regularly in class, to bringing up a grade through hard work. Finally, we support teachers by providing Mini-grants so that they may purchase classroom supplies that enhance the curriculum for a large number of students.
Meetings
Monthly meetings are held the 1st Thursday of each month at 6:30 PM in the guidance office.
Please contact the Academic Booster Club at Mrhsacademclub1@gmail.com for more information