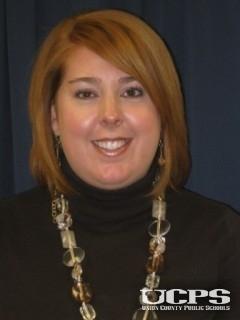 Phone: 704-296-0105 Extension: 5801
Email:
Degrees and Certifications:
Dr.

Kimberly Schroeder, Principal

Kim Warr Schroeder is honored to serve as the Principal of Cuthbertson High School. Dr. Schroeder began her career in school administration by opening Cuthbertson High School where she served as the Assistant Principal of Instruction from 2009-2012. While working at Cuthbertson High School, she has enjoyed celebrating the many successes of our students, staff, and community.

Dr. Schroeder was born and raised in Georgia where she earned a B.A. in English from the University of West Georgia. After moving to Charlotte in 2001, she worked eight years as an English teacher and Head Cheerleading Coach at Butler High School (CMS). As Head Cheerleading Coach, her Varsity squads won the NCHSAA State Championship for four consecutive years. While teaching and coaching, she continued her education by receiving a M.A. in English Education from the University of North Carolina at Charlotte and then earned a principal's add-on license from Wingate University. Dr. Schroeder earned a Ed.S. in Educational Leadership and earned an Ed.D. in Educational Leadership. She is also an Advanced Placement Certified teacher and a National Board Certified teacher.

In addition to teaching high school and coaching cheerleading, Dr. Schroeder worked part-time for eight years at Central Piedmont Community College where she taught English courses and then helped begin the Lateral Entry program at CPCC for those students pursuing their teaching license. She is currently very involved with online learning, serving as the Instructional Leader for the North Carolina Virtual Public School. Her love of technology and innovative approaches to education have helped prepare Cuthbertson students for learning in the 21st century. Dr. Schroeder also served on the district's Globalization Committee and was honored to be awarded the "2011-2012 Assistant Principal of the Year" title for UCPS.

Dr. Schroeder has a passion for technology, traveling, and reading books. Her enthusiasm for learning, her genuine rapport among the student body, and her desire to see students be successful have brought a unique warmth and approachability to her role at Cuthbertson High School. She is married to her husband, Jeff, and they have a little boy, Austin, with another baby due in December.