Greetings Senior class!

Each year, seniors will work directly with their School Counselor during a one-on-one meeting. This meeting will include a conversation on current academic standing, post-secondary goals, and any concerns the student may have about senior year or their plans for after graduation. Seniors are also encouraged to meet with Ms. Krull, our college advisor.

College Advising

Ms. Erin Krull is available for meetings with students/parents/guardians. Appointment times can be scheduled via email. Ms. Krull also keeps an updated scholarship newsletter that can be viewed online and is also sent to seniors through their student email.

General Reminders:

Use a personal email address for any accounts you create for college or for other plans after high school. Your student email account will expire once you graduate from high school.
Use your full name as it appears on your birth certificate on any accounts you create for college. This is important because it will match your transcript.
Be aware of deadlines for applications and for scholarships. You may need to start preparing some materials further in advance than you realize (like recommendations or essays).

Reminders for Four-Year College-Bound and Two-Year College-Bound Students:

Log into your SCOIR account. SCOIR is the platform UCPS uses to send colleges your transcripts and to submit letters of recommendation. Once you decide on which university you will attend, you will update your SCOIR account with this information so your final transcript can be sent.
Create a CFNC account. This is the account you will use to apply to community colleges and/or four-year colleges. It is also the account you will use to complete RDS. Once you have created your account, click on "apply for college" and then "application hub." You will be able to start your applications there. You will be choosing "undergraduate application" from the options available.
If you are applying to three or more four-year colleges, create a Common App account. You will want to copy and paste your Common App ID into your SCOIR personal details page so the two accounts are linked. For some schools, you will need to write a common essay for this account. If you have any questions about the essay, feel free to reach out to Ms. Krull or look at the essay writing section on the college advising website.
Complete the Residency Determination Service. Public four-year colleges offer in-state tuition (a discounted tuition rate) to North Carolina residents. They also reserve a certain number of spaces for North Carolina residents in their incoming freshman class. This form is super important to fill out before you apply! Schedule a meeting with Ms. Krull or use the college advising website for more information on what you need to gather to complete this form.
Double-check to see if a college requires recommendations. If it does, then ask your teacher at least two weeks in advance.
The FAFSA opens on October 1st!

Seniors are encouraged to check out this link to view information on application deadlines, class sizes, average GPA/test scores, and links to each school's scholarship website.

Ms. Krull shares great information in this College 101 video!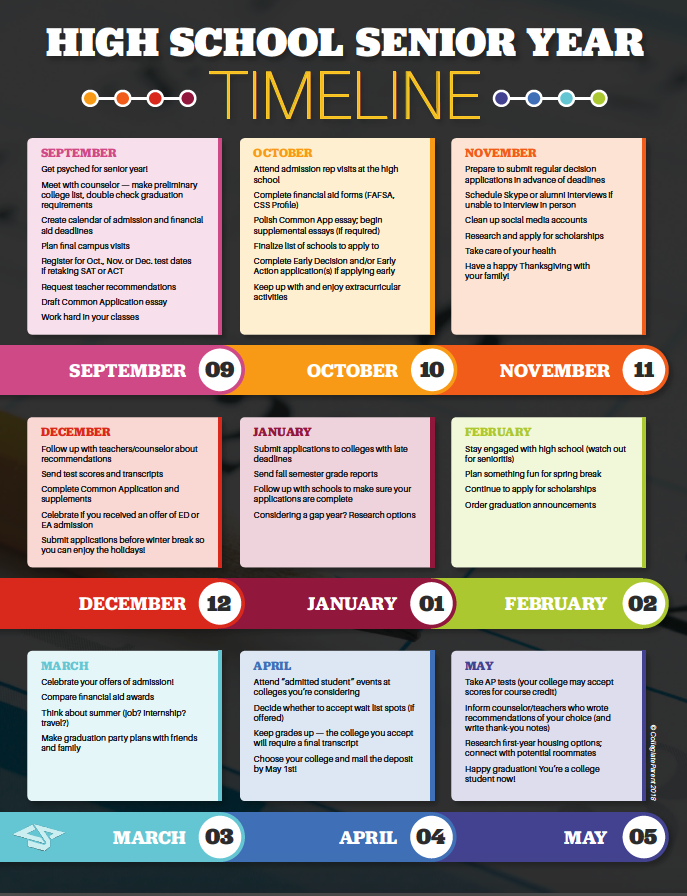 FAFSA/RDS

The Free Application for Federal Student Aid (FAFSA) is an application that all seniors and their parents who want to apply for federally funded financial aid programs must complete to gain access to the funds (federal grants and loans). It is important to complete the FAFSA because the information allows each college to have a full picture of how students will be paying for college and if added help is needed.

The website is www.fafsa.ed.gov.

The FAFSA is available on October 1 of each year.

Below is a step-by-step video that will help with the completion of the FAFSA:

English Version

https://www.youtube.com/watch?v=Y8nfk5ApcQ4

Spanish Version

https://www.youtube.com/watch?v=IKrU-iKrqmU

Residency Determination Service (RDS) confirms a student's residency status for admissions applications to multiple North Carolina public colleges. Check out the 10 Things to Know Before Starting RDS for more information

Scholarships

If you have questions about a scholarship or the application process, please email Ms. Krull or your School Counselor. You can also find most of the information on The Forest Hills High School College Advising website! You can also access a scholarship search through UCPS College Readiness online.

Websites to search for Scholarships:

North Carolina Society of Hispanic Professionals

Latin Americans Working for Achievement (LAWA)

UCPS Scholarship Database in College Readiness

Any scholarships should be reported to Ms. Ponder. Award money that is offered from a school the student is not planning to attend should still be reported. These students can then be recognized at graduation for receiving scholarships!

SCOIR

How to request teacher recommendations

College Visits

For virtual college visits, check out YouVisit and Gear Up

Ms. Krull will be scheduling virtual visits with college reps throughout the year. Check student email for more information from her!

Military Recruiters

Air Force - Staff Sergeant Saul Garcia-Quinones: 980-250-0288

Marine Corps - Sergeant Arion Jeffries: 704-913-0750

Interested in employment after graduation?

Deana Outen is the Career Development Coordinator and is excited to work with students who are considering going directly into the workforce after graduation. She can assist students in creating a resume, internship opportunities, and interviewing tips. She can be reached by email or phone (704-296-3025).

Helpful Links

Parents! Use these directions to become a Canvas observer in your student's courses. This is a great way to track your student's progress in their courses. Observers are not able to submit work on behalf of the students they observe, but they can see student grades, assignments, and calendar events.

UCPS List of Critical Community Resources

UCPS College Readiness Parent Series