Return to Headlines
Monroe High F.L.I.G.H.T. Club mentor program helps students build lasting relationships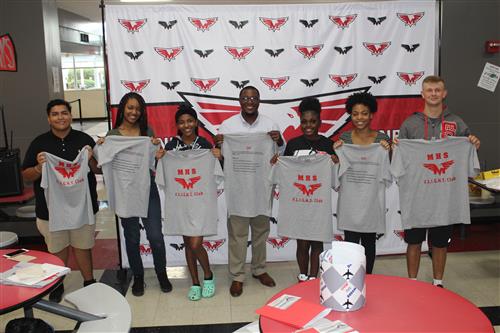 Monroe High senior Joceline Abarca knows all too well about the difficulties students face when they enter high school. Ninth grade can be somewhat of a turning point in a teen's life as they learn to balance increased academic expectations and new social relationships.
So when she heard about the new Monroe High F.L.I.G.H.T. Club that paired high school senior mentors with freshman mentees, she didn't hesitate to sign up.
"I really enjoy helping people and I really love math. So when I heard about this club, I knew I had to join as a mentor. In high school, everyone has their own group or their own clique but I felt like this was something that could unite us," she said. "I used to only want to go into cosmetology and start my own business in the future. But now I've also figured out that I really like helping people and I want to do that in the future, too. That's the kind of impact that this club has."
Created by Monroe High Assistant Principal Dexter Days, the Monroe High F.L.I.G.H.T. Club has a powerful mission that aims to help students:
Fight Truancy
Learn to build self-confidence and self-esteem
Improve interpersonal skills and Imagine beyond expectations
Guide students to manifest academic/personal achievements
Help youth to manage conflict, and Harvest positivity
Transcend student leaders into student achievers
In the club, 12 seniors who excel academically and have a desire to help others are paired with 16 freshmen students.
"I wanted to build relationships and find a way to assist our students in math, because that is an area where some of our students need additional help," Days said. "When we talk about social and emotional learning, that starts here with positive student-to-student engagement. We have to nurture and reinforce that because it can positively affect our students in all aspects of their lives."
Throughout the year, the mentors and mentees participate in club meetings and events while also meeting for one-on-one math tutoring during their lunch or homeroom periods.
Monroe High freshman Marcus Dixon said the one-on-one math tutoring is incredibly helpful during the school year and he looks forward to continuing even more of those academic sessions this semester.
However, one of the most impactful moments in the program, he said, was a group mentor-mentee roundtable discussion where the students discussed their backgrounds, high school and future goals.
"I appreciated hearing their point of view. They would tell us things that they wished they knew as freshman and throughout their time in high school," he said. "For freshmen, this club can help you get involved more, prepare more for your senior year and make more connections with other students."
Roundtable discussions such as that one, Monroe High Student Body President and senior Victor Peralta said, show just how impactful the program can be in helping students break down walls and make connections with each other.
"We're all so diverse and everyone has different characteristics. In this club, you don't have to have leadership status or a name for yourself to make a difference – we're all leaders. It's cool to know that you can help out," he said. "When I graduate at the end of the year, I just really want the mentees to know that there was a group of seniors who really wanted to help and make a positive impact in their lives. When they become seniors, we want them to continue that. It's not about leaving a legacy, it's about having someone continue what we're doing, which is making a difference."