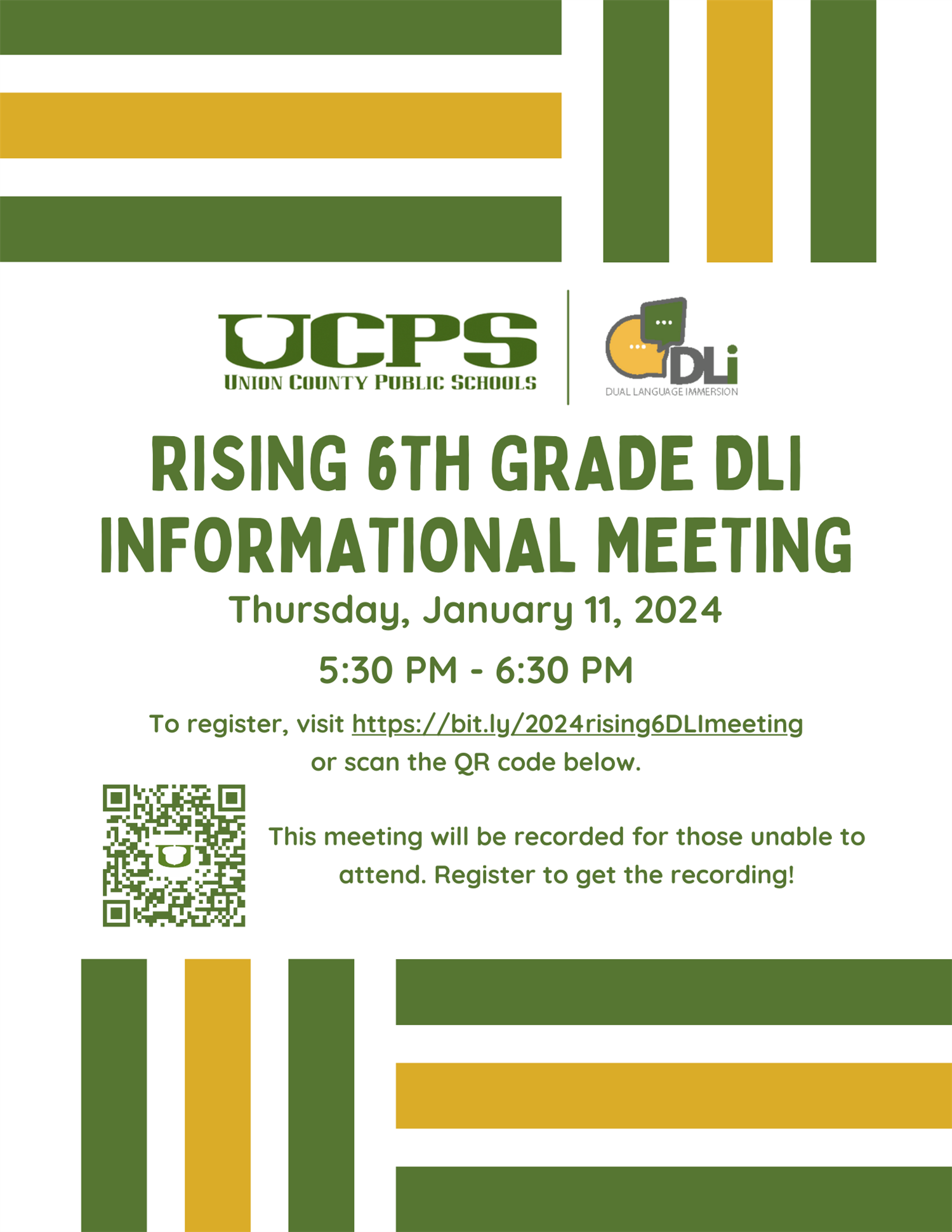 UCPS Board of Education Approves DLI Virtual Academy

At a special called meeting on Tuesday, September 22, 2020, the Union County Board of Education approved changes to the reopening plans for K-5 students. Families will be required to choose between Plan A or Plan D. Plan A includes the option of 4 days of in-person instruction with Friday as a remote learning day, and Plan D is fully virtual. Plan D includes a Spanish DLI Academy for K-5 students currently enrolled in a DLI program. There are no changes to the instructional model for Mandarin immersion students.

In order to accommodate the Spanish DLI Virtual Academy, the following model will be implemented for grades K-5:

While students will remain enrolled in their home school, teachers will be staffed at the district level. Teachers are subject to change during the year due to the expected expiration or exemption of Presidential Proclamation 10014.
The Spanish immersion model will be a 50/50 model. In most cases, students will have two teachers who provide their instruction. The model will include the designations listed below:

Spanish - Language arts, math
English - Language arts, science, & social studies

Related arts such as art, music, physical education, etc. will be provided in English by each student's home school.
Students will receive related services for AIG, ESL, EC, etc. through their home school.
Teachers will provide a mix of live and on-demand instruction with whole group, small group, and individual components.
Students will have access to Raz Plus and other online resources.
Like other families who choose Plan D, the commitment is until the end of the 2020-2021 school year.
By participating in the DLI Virtual Academy, students will hold their spot in Dual Language Immersion in their school. If students return to face-to-face instruction for the 2021-2022 school year, they will still have a space in the DLI program at their school.

DLI in Hybrid/Remote Learning

UCPS has partnered with Participate Learning to provide parents with an overview of what Dual Language Immersion instruction will look like this fall. Click on this link to read about how students will be supported and how we will ensure that learning continues.

The video below gives an explanation of instruction in kindergarten and 1st grade during hybrid or remote learning. For students in grades 2-5, you can expect that there is usually no need to use English. The only exceptions to this include opportunities to make connections between English and the target language, providing directions on at-home assignments (so parents can understand expectations), and to prepare students for formal standardized tests.

While this is not a typical situation, we do believe that staying in the immersion program is the best option for our students.
For more information about the DLI models in UCPS, visit the links below.

Partnerships

UCPS partners with Participate to provide support for Dual Language/Immersion. Participate partners with schools and districts to provide dual language curriculum resources, teacher training, overseas hiring and support services. For 30 years, educators have used Participate's professional development and curriculum, language acquisition and cultural exchange teacher programs to create engaging learning environments that empower teachers and inspire students to create impact on a global scale. Participate is headquartered in Chapel Hill, North Carolina.