Return to Headlines
UCPS teachers share remote learning tips in new Innovation Showcase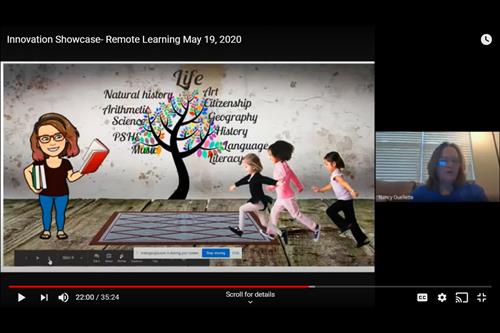 During the school year, classroom teachers regularly visit each other's rooms to share ideas about new and engaging lessons or innovative tools. That in-person interaction helps foster connections among colleagues and can lead to enhanced classroom lessons and engagement with students.
But due to school closures and social distancing guidelines in recent months, many teachers found themselves looking for a way to continue these connections with colleagues.
Enter the #TeamUCPS Remote Learning Innovation Showcase, a new digital showcase that will allow teachers to form their own professional development community.
Every Tuesday and Thursday, the Innovation Showcase features teachers of all grade levels providing quick video tutorials about ways to improve remote learning. Teachers can watch the videos live or view the archived sessions at any time.
During the sessions, some teachers have discussed ways to enhance the efficiency of their Canvas pages for students.
Others, like Parkwood High teacher Nancy Ouellette, introduced digital tools that have been helpful when providing remote learning.
While digital learning wasn't completely new to Oullette – she began providing her students with instructional videos of her lessons in the fall – she did find herself among the hundreds of other teachers who flooded the district's remote professional development as they transitioned to a full remote learning plan.
The district-provided modules provided her with valuable insight on ways she can use her Canvas page to maximize students' remote learning experience. She has since taken what she's learned in those modules and coupled it with her own tools to increase engagement among students: using Bitmojis to share instructional content.
Now, it's her time to share what she's learned with colleagues throughout the district.
"Community is so important for teachers. To have an opportunity to have this information in one place and to see what other people are doing is just invaluable," she said. "Part of teaching is the learning communities and it's really important for us to connect as much as we can."
East Union Middle teacher Christine Oakley was one of the UCPS teachers who especially looked forward to Oullette's presentation on the first day of the Innovation Showcase. Like Oullette, she participated in what she called "fabulous and extremely helpful" remote professional development sessions offered through the district.
However, those sessions offered more technical guidance. Now, she's ready to learn how her colleagues are applying these lessons in their remote classrooms.
"I absolutely loved the Innovation Showcase. The presenters have been sharing their templates with us as well as information about what works in their classes," she said. "I attend these sessions because I'm always looking for ways to engage my students even more. My goal is to finish this school year strong while also making sure that I'm preparing for whatever may happen in the future. I've been extremely thankful for having so many opportunities to participate in these remote professional development sessions so that I can grow, learn and develop for my students."
Want to view one of the tutorials? Click here to view the May 19 Innovation Showcase session.