Return to Headlines
Back to the U: Students start class with in person and virtual learning options
Day one of the 2020-2021 school year is history. But, then again, everything about the start of the new school year is historic.
"The two words at the beginning of the school year are patience and grace," said UCPS Superintendent Dr. Andrew Houlihan. "I want to remind everyone this is the first time that we have done school like this. There's a lot of change, a lot of new learnings. And, while we're glad to be back in this setting, there's a lot of new. We ask that you have patience and grace as we move forward and figure out how to reinvent and reimagine school."
Because of the COVID-19 pandemic, UCPS is offering two instructional models.
Under Plan B, students will be in school one day a week on their assigned days. All students will have remote learning on Fridays.
Plan D is virtual-only learning, an option offered to students in grades 2-12.
More than 41,000 students kicked off the school year and approximately 8,000 are enrolled in the virtual academy.
Students across the state who are in virtual classes ran into some hiccups while trying to log in to the state-wide virtual learning portal, NCEdCloud. The state-wide issues occurred when students from several districts tried to log in at the same time, resulting in the system slowing down.
Monday morning, the first group of students walked into school for the first time since March, when state officials mandated virtual learning.
"Today is unreal," said Cuthbertson High Principal Jeffery Stout. "Considering where we were just five months ago, I never would have dreamed that we would be here. But today is absolutely, incredibly exciting to be back on campus."
Before students entered the building, teachers and administrators conducted temperature checks and asked health screening questions.
"It is absolutely much different than what we're used to and hopefully just a temporary norm and not the new norm," and Mr. Stout added that it's still exciting to be back, "oh absolutely. We've been waiting to get back since March."
Following federal and state guidelines, all schools have implemented social distancing and face coverings are required for all students and staff.
To make up for her not-so-full classroom, English teacher Brandi Ford at Cuthbertson High brought some famous people to class – but they weren't there in person.
"I just printed some of my favorite – mostly fictional – characters so that they have somebody to sit next to. So they're not lonely. They can turn and talk to their partner and converse," said Ms. Ford. "Some of my favorite guys. I do have a couple of poets. Frederick Douglas is back there and Shakespeare is here. But it's just some of my favorite fictional characters to keep us entertained and give us a little smile, that's all."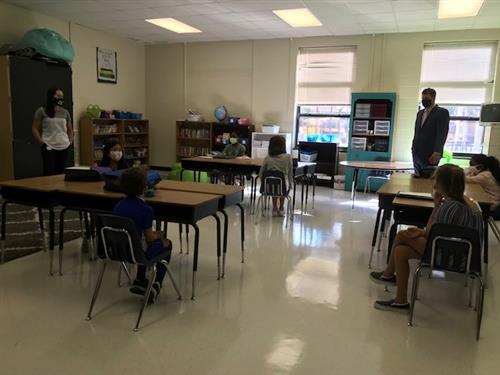 Teachers and staff were also guiding students in the hallways, reminding them to stay six feet apart and walk in the same direction as the arrows that are marked on the floors.
"I visited a number of schools. Very, very proud of our kids, of our families, of our community, and most importantly of our teachers and staff," said Superintendent Houlihan. "We're off and running, glad to be back in a Plan B hybrid situation and again very proud of Team UCPS."
While the first 'first day' of 2020-21 has ended, Superintendent Houlihan pointed out that Tuesday, Wednesday, and Thursday will also be the first day on campuses for other students.
The new school year will have four first days.
It's a back to school unlike any other.
View our photo gallery of the first day of school.
Posted August 17, 2020