Return to Headlines
Unionville Elementary commemorates 9/11
For the last 18 years, Unionville Elementary made it a point to remember the September 11 attack on the United States.
This year, the tradition continued despite the major changes in schools.
"We don't need to let this day and this memorial pass without recognition," said Dr. Sharyn VonCannon, the Principal of Unionville Elementary. "Because it's important. I think we all remember where we were on 9/11 and how many thousands of people lost their lives and this is something we would do normally and we did not want it go by this year just because of the current coronavirus stipulations."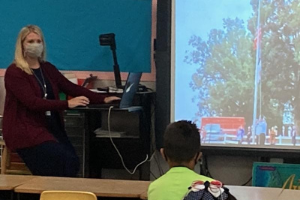 This year marks the 19th anniversary when nearly 3,000 people died after terrorists hijacked four passenger planes and crashed them into separate locations, including The Twin Towers of the World Trade Center in New York, The Pentagon, and an open field in Pennsylvania.
Shortly after the bell rung Thursday morning at Unionville Elementary, it was time to commemorate 9/11 – a day early.
To make sure parents and students who are in remote learning could participate, the school shared the ceremony via Facebook Live.
"This year we had to get creative in order to include students and parents," said Dr. VonCannon. "We chose a day early so we could have students here to take part in the ceremony as Friday, September 11 all students are remote. The link will be sent to parents to watch, as well as students who are home for remote or virtual learning."
Union County Sheriff Eddie Cathey, several deputies, Unionville Mayor Randy Baucom, members of the Unionville Fire Department, EMS/Rescue, Police Department and members of the American Legion Post 535 joined school leaders around the flagpole for a socially-distanced ceremony.
A select group of fifth graders raised the current flag.
After the National Anthem and The Pledge of Allegiance, a student read a brief history of September 11, 2001.
The students then lowered the flag and folded it.
Two members of American Legion Post 535 raised the North Carolina and American flags, which were donated by Mayor Baucom.
Music teacher William Harris played taps as the American flag was lowered to half-staff.
School administrators sent a YouTube link of the ceremony to teachers to use as part of their classes.
But, as the memorial happened outside the school building, a class of third graders watched it live on a screen in their classroom.
For them, 9/11 is something in the history book.
"I heard people talk of it," said Nora Walmsley, who added that what she learned from Thursday morning's ceremony is "that it's good to have workers around us to keep our community safe and that we learned about the colors on the flag and what they are for."
For William Starnes, the lesson of September 11 is "that many people were brave on 9/11 and many people lost their lives."
What's history for students – was real life for third-grade teacher Mrs. Furr.
"It was a tragic day. It was hard for our people. It was hard for the United States of America but we pulled together as a nation and we turned it around. We made things better" she told students in a discussion after the ceremony.
Mrs. Furr pointed out that how 9/11 taught the country to unite after difficulty is the same lesson students can learn about coping with the pandemic.
"No matter what we're going through in today's world because this is all new. We're wearing masks to school. We're sitting 6 feet apart from people," she said. "We're going to get through this together. We're going to work through this as a school. We're going to wear our masks. We're going to set examples for our friends, and for our peers and we're just going to show others that nothing can bring us down. No matter what."