Return to Headlines
PRHS senior Kamille Coleman is John H. Crowder Award recipient
The late John H. Crowder spent more than 30 years serving the children of Union County.
As a living tribute to him and his legacy, the Union County Board of Education awards the John H. Crowder Service Award every month to an outstanding high school student who is making a difference in their school and community.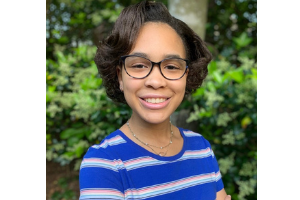 Students who receive this award are not only academically successful, but also have an established history of community service.
Due to social distancing guidelines, the award winners will not be here in person, but we will recognize our students with a special online tribute that can be accessed from the UCPS website and social media pages.
Tonight, we award the John H. Crowder Service Award for October 2020 to Kamille Coleman, a senior at Porter Ridge High School who works to make each day a better day.
Kamille leads by example. Her commitment to being the best she can be in the classroom is evident for all to see.
She serves as a member of Mu Alpha Theta, the Math Honor Society, and tutors elementary and middle school students in math.
And, as an active member of Porter Ridge High School's Student Council, she helps create engaging events for the student body.
Kamille also has an artistic side. She's a member of the National Art Honor Society, and helps organize the Very Special Arts Day for special needs children within the Porter Ridge Cluster.
Her love of helping others isn't limited to the school.
When, just in her freshman of high school, Kamille volunteered with Matthews Help Center to organize donations. She cleaned up the center and helped customers find essential items within the Backporch Treasures Thrift Shop.
Even her love of the arts is infectious.
Kamille volunteered as the Tap Dance Assistant with Rhythm Dance Studio where she taught young girls about the fundamentals of tap dance, and worked to encourage them before going on stage.
Her wide range of volunteer work includes helping uninsured and low-income families. She spends time once a month with NC MedAssist to sort over-the-counter medications, and Kamille worked closely with her mother to supply over-the-counter medications and miscellaneous medical supplies.
The COVID-19 pandemic threatened to change life as we know it, but Kamille stayed true to her way of life – which is to be of service.
Over the summer she began volunteering with the Covid NineTEEN Project - an organization that offers activities and tutoring sessions for children during the Coronavirus pandemic. Kamille tutors children all over the country in math, reading, and science.
She also volunteers with the Momentoring Weekly Initiative Team to coordinate mentoring sessions each week. She uses her graphic design skills to create interactive digital posters for children to complete activities.
Because of her encompassing service and community engagement, the Board of Education is proud to recognize Kamille Coleman as the October 2020 recipient of the John H. Crowder Service Award.