Return to Headlines
State leaders visit UCPS to learn about innovative instructional practices
Tuesday, March 23, was a special day for Union County Public Schools (UCPS). Staff, Board of Education members and an elected official welcomed senior leaders from the North Carolina Department of Public Instruction.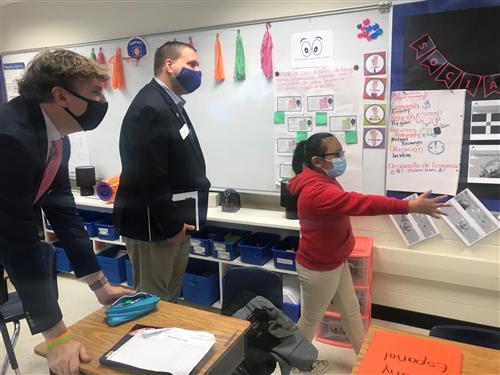 As part of the Southwest Region visit, state educators visited East Elementary and Marvin Ridge High to learn more about instructional practices, academic programs, student engagement, and how students and teachers have adapted during the COVID-19 pandemic.
At East Elementary, the visit focused on three areas—school turnaround initiatives, dual language programming and the health sciences academy.
Superintendent Dr. Andrew Houlihan began his presentation with a question. When you think of Union County Public Schools what comes to mind? State leaders said innovative thinking, high-performing schools and great leaders.
That is correct he said. All of those adjectives describe UCPS and the work we have done to be the best and improve our schools.
Houlihan presented turnaround strategies that were instrumental in moving four schools out of low-performing status. He shared the district's plans that addressed effective teaching, effective leadership, intensive daily in-school tutoring models, more time in school, differentiated compensation and school culture.
"Today was a wonderful opportunity to learn about Union County Public Schools and all of the wonderful things this school district is doing," said Dr. Chris Triolo, Southwest Regional Support for the Department of Public Instruction.
In addition, a highlight of the visit featured the district's partnership with Atrium Health to outline the origin and expansion of the Health Sciences Academy.
Principals told stories about how the academy has increased student engagement in all grade levels. They also explained how Atrium Health staff are working with teachers to connect the curriculum to real-life experiences, expand career exploration and provide professional development opportunities for students.
Once the presentations were complete, East Elementary Principal Matt Lasher led the teams to see teaching and learning in action in the health sciences lab and dual language immersion classes.
"What an incredible experience it was to be at East Elementary today," said Dr. Beverly Emory, Executive Director for Leandro Implementation at the NC State Board of Education. "The leadership characteristics of the children was just awesome."
During the afternoon session, state leaders traveled to Marvin Ridge High School to visit UCPS Teacher of the Year Dareion Malone.
As a special treat, Mr. Malone prepared chorus students to sing for our guests and talked about recruitment efforts for the school's music program and best practices for teaching during the COVID-19 pandemic.
He also participated in a special roundtable session with teachers from around the state.
Published March 23, 2021