Return to Headlines
Dual Language Immersion program uses technology to sharpen skills
Union County Public Schools (UCPS) Dual Language Immersion program provides students with the very unique and special opportunity, to be immersed in the Mandarin (Chinese) or Spanish language and culture.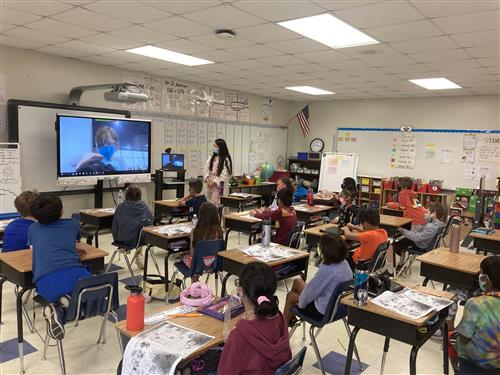 For the very first time this week, students (K-5th grade) in the Mandarin Immersion program at Marvin and Kensington Elementary Schools participated in a virtual exchange with students from Stough Magnet Elementary School in Wake County, who also are also learning the language.
During the exchange, UCPS students watched prerecorded videos of students from Stough who greeted them in Mandarin and told them about themselves, favorite hobbies and or sang songs all via Flipgrid, an interactive site, app and teaching tool. At the same time, students at Stough watched prerecorded introduction videos of students from UCPS.
Students and teachers both have access to Flipgrid, allowing for endless opportunities to engage and learn more about the language and sharpen skills. Students can even reply to videos other students post on the site by commenting or recording a reply.
Next month, UCPS students and teachers in the program will participate in another virtual exchange, a Google live meeting, and again will get to interact with Stough students. During this interaction, UCPS students will ask the other students on the live chat questions, and dive deeper using Mandarin. Virtual exchange will continue on in the upcoming school year.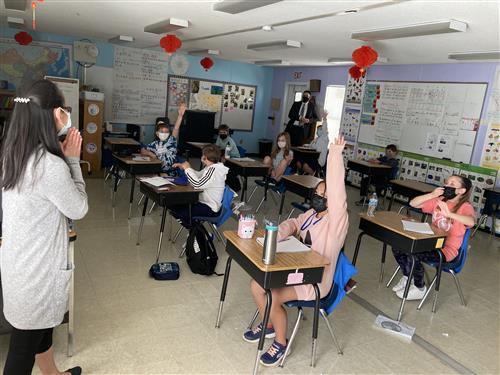 "Because we are a global society, it's very important that we have students who speak another language, said Donna Podgorny, UCPS Dual Language Immersion instructional coach. "I think it helps with tolerance, understanding and appreciation of other cultures."
UCPS has language immersion programs in 20 schools featuring Mandarin or Spanish respectively, in grades kindergarten through eighth grade. Students enter the programs through a lottery conducted during the kindergarten registration process. Preferences for the lottery are based on the student's home address and home school assignment. Students who have older siblings in a language immersion program are guaranteed a seat in the immersion program at the same school.
"I like that we practice writing on paper instead of on the computer all of the time. Also, I like that we're able to have a teacher who speaks Chinese and who is from the country," said Kate Coffin, a second grader in Ms. Zhou's class at Marvin Elementary.
UCPS students that are participating in the Dual Language program are already forward-thinking on how they will use Mandarin and other skills gained from the program later in life. "I plan to use it so that I can be a translator and communicate better around the world with one of my career paths," said Mitchell Roberts, a fifth grader in Mrs. Zhu's class at Kensington Elementary.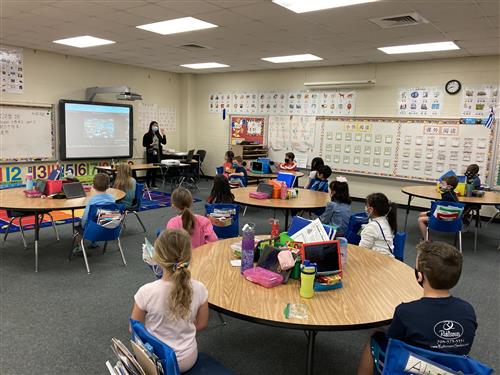 UCPS partners with Participate Learning to provide support for Dual Language Immersion. Participate partners with schools and districts to provide dual language curriculum resources, teacher training, overseas hiring and support services.
"I'm very happy to share whatever I know with them, in a different perspective so they don't just think one way, they also think out of the box," said Zhi Ma, second-grade Dual Language Immersion teacher at Kensington Elementary.
Participate Learning's Dual Language Immersion teachers are from overseas, so students aren't just immersed in the language, but also culture and they have daily interaction with an individual from whose language, country and culture they are learning about.
"I'm a strong advocate for immersion. Helping students to become biliterate, bilingual and more importantly global minded, global citizens and globally competitive and prepare them for their future careers," said Judy Ouyang, Education Programs Manager at Participate Learning.
For 30 years, educators have used Participate Learning's professional development and curriculum, language acquisition and cultural exchange teacher programs to create engaging learning environments that empower teachers and inspire students to create impact on a global scale. Participate Learning is headquartered in Chapel Hill, North Carolina.
"The language is powerful because it opens the door for all kids and not just kids that go to a private school and that would have a program like this. Giving them access to things we didn't have as kids growing is huge," said Terry Vaughn, Kensington Elementary principal.
To learn more about the Dual Language Immersion program at UCPS, click here.
Published April 16, 2021