Return to Headlines
Parkwood High School senior selected as October Crowder Award recipient
The Board of Education continues to honor students who are making a difference in their school and community with the John H. Crowder Service Award. At the Oct. 5 meeting, a Parkwood High School senior, who is an outstanding leader that puts serving others first.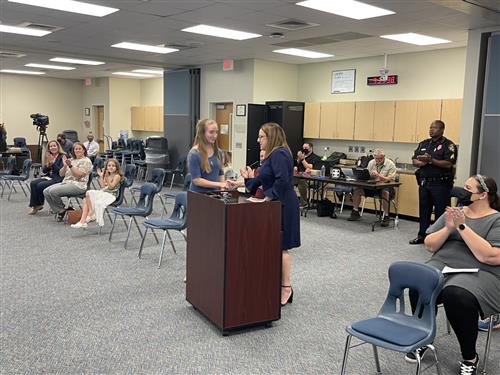 Averi Phyllis Lavoie is a student who makes a tremendous difference in the lives of others. She serves as president of Key Club, member of National Honor Society and has also served in the Air Force Junior ROTC for the past four years.
Through her involvement in Key Club and National Honor Society, Averi participates in service activities for the benefit of the community. She participates in yard cleanups for community members, clothing drives, volunteers as a timekeeper for the swim team, tutors, and leads games with students at her church.
When the advisor for National Honor Society, Ms. Cheryl Brightsen, describes Averi, she speaks of a young lady who serves others in order to help them – not for recognition and not to simply complete required service hours.
Mrs. Hayden Lainey, Key Club advisor, said that, "Averi wants to get everything accomplished. She doesn't wait for anyone to ask her to do something. If she sees a need, she just does it. It's not for the recognition. It's just because she's a good person."
While Averi is actively serving others, she also maintains academic excellence in all of her classes. One of her prior teachers, Lieutenant Colonel Kelly, described her as a "stellar student."
In AFJROTC, Averi serves as a flight leader. In this role, Averi is in charge of 15 other cadets. She is responsible for their attendance, leading their formations and she also commands their drills.
Averi earned the American Legion Scholastic Award this past May. In order to receive this award, she had to be ranked in the top 10 percent of her high school class, ranked in the top 25 percent of her AFJROTC class, demonstrate leadership qualities, and actively participate in student activities. She is also a member of the Awareness Presentation Team – which produces presentations revolving around topics that younger students in the district might be experiencing in their lives such as bullying, cyberbullying, peer pressure, conflict resolution, sexual issues, violence, and drug and alcohol awareness.
After graduation, Averi plans to attend Greensboro College.
Published Oct. 5, 2021