Return to Headlines
Unionville Elementary EC teacher awarded for her exceptional work in the classroom
Unionville Elementary Exceptional Children's (EC) resource teacher Addie Philemon's positive outlook on life uplifts those around her, and beyond. She goes the extra mile to reach out to assist and mentor new teachers and so much more. In honor of her work, on Oct. 13 she was presented the 2021-2022 UCPS EC Educator of Excellence award. The annual recognition is a chance to honor and thank UCPS EC staff and teachers.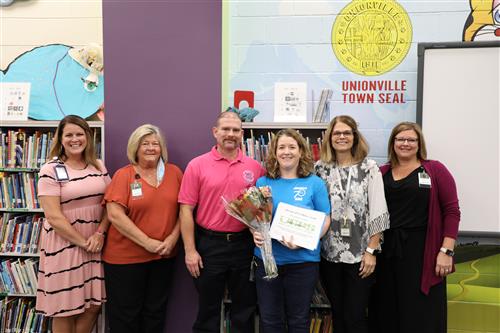 Disguised as just a baby shower, Unionville principal Dr. Sharyn VonCannon called teachers to the media center to celebrate. After a few short announcements, Dr. VonCannon ushered in Mrs. Philemon's husband Kevin, Dr. Laura Beachum the director of the UCPS Exceptional Children's Program, UCPS chief academic officer, Dr. Brad Breedlove, and other UCPS personnel to surprise Mrs. Philemon with the award.
In complete shock, Mrs. Philemon had a smile from ear to ear as she was presented with two certificates, a bouquet of flowers, and the opportunity to attend an EC conference next month.
"I'm so overwhelmed, it's a great honor. There are really great EC teachers here in Union County that I have worked beside of, so I think this award is for all of us," said Mrs. Philemon.
Mrs. Philemon has been teaching at Unionville Elementary for the past nine years. She says the best part of coming to work every day is her students and making a connection with them and witnessing their growth.
"I can't say it enough, I really enjoy working with my students and coming up with solutions that will help them be successful in school and in life," added Mrs. Philemon.
With 22 years of experience, she is highly respected by the staff at Unionville. As the chair of the EC team at Unionville Elementary, her fellow teachers value her expertise and suggestions.
"EC teachers have a difficult job. Along with serving students with disabilities, they have a lot of paperwork behind the scenes. So, recognizing what they do for students with disabilities is of the utmost importance," said Dr. Beachum.
"I see it every day with Mrs. Philemon, but to have others recognize what she does for the whole school is awesome," said Dr. VonCannon who nominated Mrs. Philemon for the award.
To learn more about the EC program at UCPS, click here.
Published Oct. 14, 2021