Return to Headlines
Superintendent's Art Showcase displays student talent
On May 10, Union County Public Schools hosted a reception for the Superintendent's Student Art Showcase. It's a long-standing district tradition that honors the artistic abilities of UCPS students.
"We have so much talent in our district," said Superintendent Dr. Andrew Houlihan. "I was thrilled to see our families and students enjoying the many amazing art pieces on display. The showcase had been on pause but it is back and better than ever!"
Schools from across the district submit artwork to be exhibited on the walls of the district's Central Services office (Church Street) every two years. This school year, 82 pieces of art were submitted. Those students and their families were invited to the reception to view their artwork.
Jeremiah Moore, a third-grader at Marshville Elementary, created a Super Mario piece with markers and paint. He dreams of becoming a cartoonist. His mother, Holley Moore, said he is constantly attempting to improve his talents by watching other artists on YouTube for inspiration. Video game characters are another source of influence for him.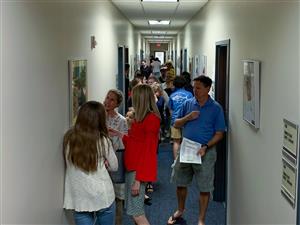 Others, like Aneesa Robinson, draw inspiration from fashion, abstracts, and bright colors. She is a second-grader at Western Union Elementary. Her work is up to interpretation by the audience.
"It's great that her artwork is on display. This builds up her confidence," said Sheena Robinson, Aneesa's mother.
MyKaila Harper, a seventh-grader, designed an anime character based on the idea that everyone has emotions. She chose to depict anger in a lively and colorful manner. MyKaila attends Health Sciences Academy at Monroe Middle School.
"It took me two weeks to draw, color and paint. I love drawing," said MyKaila. Her mother, Shaquala Daniels, noted that she is proud of her daughter and regularly receives drawings of her favorite characters, Winnie the Pooh and Hello Kitty.
Luis Farfan, a senior at Weddington High School, and his father were impressed by everyone's artwork. His colored pencil drawing depicts a person standing by the side of a car, looking toward hills and mountains, a sunset and a bird flying overhead. It took him about 12 hours to complete.
"I feel like I'm leaving something behind, a legacy of sorts," said Luis.
The artwork created by the students will be on display at Central Services until December 2024.
05/11/2022