Return to Headlines
Finding her voice through a Talker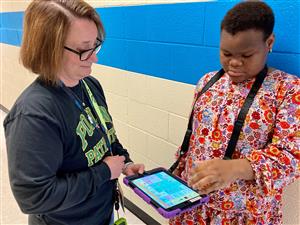 Mesoma "Mimi" Richard, a fifth-grader, has attended Poplin Elementary since kindergarten. She is well-known and well-liked by staff and students. This year is the most notable for everyone because it is the first time Mimi has had a voice. An iPad and an app have changed the way she interacts and communicates with others.
Mimi is an autistic nonverbal student. Until recently, she communicated using limited sign language, gestures or a PODD (Pragmatic Organisation Dynamic Display), a book of laminated pages containing pictures, words and symbols. The PODD is more of an activity that needs a partner. She can operate the iPad independently.
The iPad, termed a Talker by the school, assists her in forming sentences by combining words, which appear as buttons and a picture to match the word. Then, she can play it back for others to hear. Mimi wears her Talker with a strap along her body or places it on her desk at school and takes it home with her. The app, TouchChat, can be customized to include specific features unique to Mimi. The Talker now contains images and names of her teachers and some of her favorite foods.
Mimi likes to sing on her Talker. Old MacDonald and The Wheels on the Bus are two of her favorite songs. She is also learning how to converse.
"Hello, I love it! Awesome!" said Mimi to speech and language pathologist Carrie Thompson when she asked Mimi how she liked using her Talker. Thompson has been instrumental in teaching Mimi how to use it.
"It takes full team support to make this work," said Thompson. "Mimi's teachers are open to her using the Talker throughout the day. The whole school is embracing it. When she first got it, she used it to communicate with some students, and she and they were excited. It warmed my heart to see it."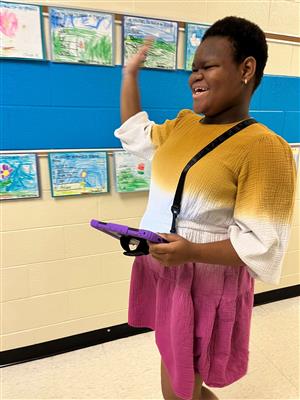 Mimi's mother, CJ Richard, sees the advantages of using the Talker with her. She's excited about the memories they're making and Mimi's progress.
"She is less frustrated. Sometimes it could take us an hour or more to figure out what Mimi wanted to tell us. The Talker is more instant. It makes communicating much easier for us all," said Richard. "She gets so excited when we can understand her. We love it!"
The district's Exceptional Children's department purchases program licenses and evaluates need and readiness. Joan Lewis, a speech and language pathologist for augmentative communication, facilitates the process. Some students prefer and perform better with low-tech communication tools, while others are not yet ready for a device. It is critical to have it readily available for students like Mimi. Lewis said they are currently building up their inventory.
"Previously, the thought was to see if the student was ready before purchasing the devices and app. Now, we want to get these into classrooms as soon as possible so students can be exposed to them early," said Lewis. "Then we can see who it would suit the best. There are many cost-effective ways to do it."
The goal is to find what works best for the student, not replace low-tech with high-tech.
"Our focus is on providing our students a voice and a choice in whichever way is most appropriate for them," said Lewis. "It's very individualized because each student may need something different. Our goal is to provide them with the opportunity to mature into their choices from the start."
As Thompson got ready to take Mimi into her classroom, she looked her way and used her Talker to say, "See you later, alligator."
05/17/2022