Return to Headlines
Where are they now: A solid foundation provides countless opportunities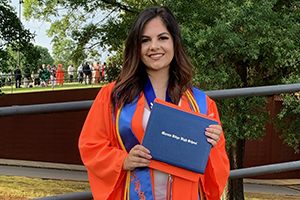 Looking back at where you've been and what you've accomplished is a great way to set new life goals and embark on new adventures. Ashley Cruz, a 2019 Marvin Ridge High School graduate, is about to close another chapter in her life and paused to reflect.
Cruz presently attends High Point University, where she is pursuing a psychology degree. She considered becoming a neonatologist when she was a member of her high school's HOSA Future Health Care Professionals. She changed her mind after taking an Advanced Placement (AP) psychology class her sophomore year.
"I took the class to dip my toe in and fell in love with psych," said Cruz. "I enrolled in a lot of AP classes at Marvin Ridge. I went to college with about 20 transferable credits. I planned out my schedule, taking only the classes I needed to. It's allowed me to graduate a semester early. I'll finish in December."
Cruz said that the rigors of high school prepared her for college. Her preparation began much earlier when she was placed in Sandy Ridge Elementary's AIG (Academically or Intellectually Gifted) program.
"I remember taking Singapore Math, which is more of visual math. I still use it. Numbers have always come naturally to me," said Cruz. "People think I'm going to work as a counselor or therapist when I say I'm a psychology major because that's what they know about the field. The data and the research are what I concentrate on."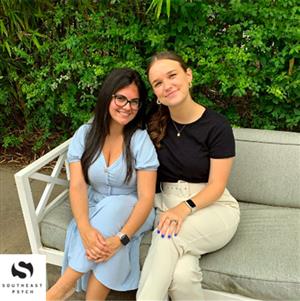 An opportunity arose after Cruz enrolled in abnormal psychology during her first year at High Point. Her professor was establishing a research lab, and Cruz joined it. What began as literature reviews and readings evolved into Cruz undertaking an independent study, in her senior year, on the relationship between different types of anger and pain. Her goal is to have it published in a journal.
"I spent my entire fall break working day and night on my research proposal for Psi Chi, an international honor society in psychology. We were granted a little over $1,000 to conduct the research," said Cruz. "I'm the lead, and the lab team assists me. It's different because it's hands-on, so it's been a great experience."
Cruz's involvement in psychology does not end there. This summer, she interned at Southeast Psych, a private practice. There were over 60 candidates, and she was one of two selected. Much of her work includes helping clinicians, researching topics for presentations, creating interest surveys and putting together marketing materials for events. She also attends meetings and training. It's allowed her to talk with clinicians about their experiences and get advice on the next steps.
Cruz is also active in clubs and organizations at High Point. She is the president of the PAWS (Peers Addressing Wellness and Safety) club and a member of Kappa Delta Sorority. As if that weren't enough, she enjoys working as a barista at Starbucks when she can fit it into her schedule.
"I've learned so much from being a barista. It's so much fun. I love the routine of it. I like the customer connection," said Cruz. "I was a server and a hostess throughout high school, too. Doing those things has helped me to be more personable and communicate with others better. These skills are important when conducting research, especially when it includes people."
Cruz is considering various online studies after she finishes to have more flexibility. She is interested in psychometry, which includes testing, measuring, assessment and other related activities. One of her key conclusions is that any major has many paths.
"Not all biology majors become doctors. Not all business majors are CEOs," said Cruz. "Think about where clinicians get their information about what is happening in the psych world. It's the backend most people don't consider. Even if in 10 years I decided I was done with psych, I could take what I've learned and apply it to something else."
Cruz's brother, Michael, is going into his junior year at Marvin Ridge High. Her advice to him and any other student researching colleges or universities is to take the time to find the right fit. She wanted a university that was far away enough to be independent but close enough that she could visit home easily.
"Happiness is the most important thing. You don't have to choose what's cool, popular, high-ranking, or prestigious as long as you enjoy what you're doing, where you live, and who you're hanging out with," said Cruz. "Something important to me as I looked at colleges, which may seem minuscule, is that I wanted cute little areas around the school, like little nooks to study. Every college I toured, I tried their pasta because I love pasta. The simple things that make up your daily routine make your time more enjoyable."
07/25/2022