Return to Headlines
Where are they now: Balancing love and business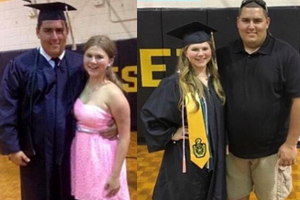 Middle school rivals, high school sweethearts, married, and now local business owners. Riley Hovick Gogatz, a 2016 Forest Hills High School graduate, and Anthony Gogatz, a 2014 graduate, had different ambitions after high school. She planned to attend college, and he was eager to begin working. They had no idea their futures would include having individual careers while running a mobile axe-throwing company together.
Anthony Gogatz did not pay much attention to Riley Hovick when they were in middle school. He said she was a bit annoying, and they did not hit it off. In high school, some mutual friends got them together. They started to hang out and became good friends. Anthony finally asked her out in April of 2013. Even though they both pursued different career paths, they knew they would continue dating. She had already sensed marriage was in the cards.
"I knew we were going to be married. I had already picked where we would hold the wedding, The Cotton Gin in Monroe," said Riley Gogatz. "Anthony proposed in 2019, and after touring a few venues, we chose The Cotton Gin. We wanted to keep everything local because our relationship started in the area. There were difficulties getting married during a pandemic. We are happy to say we had a beautiful and safe wedding day."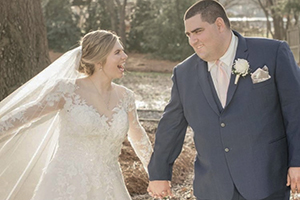 Both said their high school did a great job of preparing them for life following graduation. Anthony Gogatz was in the Work-based Learning Program, while Riley Gogatz was in the Teacher Cadet Program her senior year. He thrived in his marketing and agriculture classes. In addition to taking his core classes, he left school to work at Discount Tire for credits. She enjoyed her English and theater classes and discovered she liked teaching.
"I started at South Piedmont Community College for my associates and then went to WGU (Western Governors University), an online university, for my bachelor's in elementary education. "I have taught as a teacher assistant in a local charter school," said Riley Gogatz. "Currently, I'm changing careers but enjoyed being a teaching assistant."
Anthony Gogatz graduated from high school early and opened a mobile mechanic business. It did well. However, due to his young age, he faced challenges and had limited spare time. Later, when he was offered a position with Waste Pro, a privately-owned solid waste collection, recycling, processing and disposal company, he accepted. He is now their fleet manager.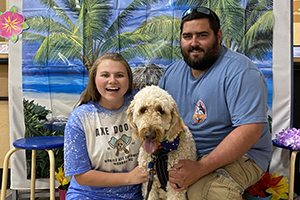 "I'd taken the marketing classes at Forest Hills knowing I'd want my own business. Growing up, my uncle was a mechanic. I always had a wrench in my hand. I was known as "the working boy" in high school," said Anthony Gogatz. "I started at Waste Pro as a night shift guy. Then they saw what I could do, so they moved me up to a mechanic, which led to a day tech lead position, and then a year and a half ago, I was promoted to fleet manager."
Anthony Gogatz's drive to own a business never faded. The three words his uncle and father instilled in him to never forget were, "Why not me?"
They say a good idea can strike at any time. He and his friends went to an axe-throwing spot for his bachelor party. That is when he had the notion of bringing axe-throwing to Union County.
"A few months after we married, we talked about opening a storefront. We were hesitant due to the pandemic. We then had the idea of making it an axe-throwing mobile to bring fun to people safely," said Riley Gogatz. "Anthony built everything but the frame. We named it Axe Doods. Motley, our golden doodle, inspired the name and brand."
Balancing careers, a business and a marriage can be challenging. Riley and Anthony Gogatz, do it all with a smile, humor and plenty of planning.
"We have a whiteboard calendar in our kitchen, which I color code for our business and individual events," said Riley Gogatz. "Another thing we have learned to do is take breaks. We value our days off and make sure we still go on dates."
Axe Doods officially launched in March. The couple said they are currently booked right through December. Things have been going so well that they added a kids' axe-throwing mobile, which Anthony also built, with plexiglass on the targets. The kids use a toy throwing axe with a suction cup blade for safety.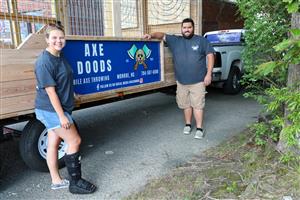 "This began as a hobby. We could never have dreamed of it being what it is now," said Anthony Gogatz.
Both credit their continued success to what they learned at Forest Hills. They said they were surrounded by teachers and staff who guided them in the right direction. They each have teachers from high school with whom they maintain contact to this day.
Anthony and Riley Gogatz have some nuggets of wisdom to share with young people.
"Always take a chance because you don't want to live your life wondering, "what if?" said Anthony Gogatz. "The words, "Why not me?" were the best advice I ever received, so I'm saying, "Why not you?"
Riley Gogatz's is, "You do you boo!"
"To this day, I still say those words, but in high school, it's hard not to get wrapped up in what everyone thinks of you or what your friends are doing," said Riley Gogatz. Do what you want to do because it doesn't matter what everyone else thinks, wears, is doing, etc."
08/08/2022