Return to Headlines
Rock Rest teacher named Exceptional Children Teacher of Excellence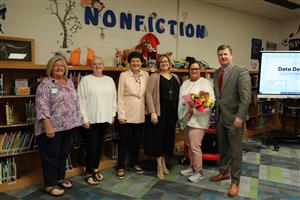 Megan Gutelius, an Exceptional Children's (EC) teacher at Rock Rest Elementary, has been named a 2022–2023 Exceptional Children's Teacher of Excellence. On Tuesday, Sept. 28, her principal, Kristy Thomas, and the district's EC Director, Dr. Laura Beachum, surprised her with the news during a staff meeting. Her children, Superintendent Dr. Andrew Houlihan and Chief Academic Officer Dr. Brad Breedlove were present, and she was given flowers, balloons and a certificate.
"We'd like to give one of our staff members special recognition today. This is a staff member that if you are having a bad day, you will find a Dunkin' Donuts card on your desk," said Thomas. "We are lucky to have Megan teaching at our school."
Rock Rest Assistant Principal Keitha Rodden nominated Gutelius.
One part of Rodden's nomination letter read, "If you have ever met Ms. G, you know that her personality exudes joy. Oftentimes, special education students present with the most frustration and anxiety in the school environment due to learning difficulties. In Ms. G's classroom, students enter into a safe space where they can relax and receive the instruction and support they need to help them access the general education curriculum. Ms. G understands that students need a place where they can process their emotions, feel safe to express their feelings about school, and learn to take risks with new learning. The warm and inviting atmosphere of the classroom provides a calmness where optimal learning can take place."
Gutelius has been a special education teacher at Rocky Rest for the past nine years. She has experience working with students of all ages and grades. She is well-known for her big heart, her ability to connect with students and their families and for being an example of generosity. When children arrive in the morning, Gutelius welcomes them all. After school, you can find her meeting with parents to discuss student goals or decorating for family nights.
"When my name was called, I was shocked. I don't do it for recognition. I became an EC teacher to ensure that students receive the assistance and support they need to succeed," said Gutelius. "I'm honored by it, but the entire school supports putting students on an equal playing field. It makes it easier for me to do my job. The teachers here are not separate from the community. That is what makes us successful."
Gutelius will be among the recipients from across the state who will be honored by the North Carolina Department of Public Instruction in November during the Annual Conference on Exceptional Children.
09/28/2022