Return to Headlines
Why do we need this bond: Forest Hills High School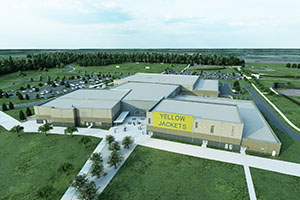 Forest Hills High School principal, Kevin Plue, describes the current building as a bit of a Frankenstein. An old smokestack visible from the street and unworkable radiators throughout the building are remnants of previous additions and modifications. The radiators also take up space in already narrow hallways.
The need is more than cosmetic. The size and functionality of 1960s-era classrooms are inadequate for 21st-century learning. The bathrooms are small. The current cafeteria cannot accommodate all students, so alternative spaces are used, requiring more staff to help at lunchtime.
"Right now, students go into the courtyard or other spaces. Going to the new design and having students in one central location would help free up staff to eat their lunch or do other things," said Plue. It's also a different educational environment. In the 1960s, students weren't walking around with computers, so technology constantly needs to be updated.
Forest Hills High is one of two schools on the 2022 School Bond that, if approved by voters, will replace old buildings with new ones. The new building, expected to cost almost $96 million, will consolidate all classes and activities into one building with updated facilities. Some features of the new school include a new auditorium, a modern media center with collaboration space and a multi-purpose auxiliary gym.
"The addition of the Monroe Bypass has already created some buildings in our area. The existing school is not large enough to handle that predicted growth. One of the predictions for the new school would be that it would be able to hold a larger student body," said Plue.
Current seniors will not be able to use the new facility but are hopeful that future students will have that access. Due to the lack of space, Senior Even Greene said the teachers make do with what they have now by switching classrooms when needed. He'd like to see that change.
"We are proud of our school but a new one is needed. It's not uncommon for teachers to trade classrooms. It has happened multiple times in my science and drafting classes. It would be nice if students and teachers did not have to swap classrooms," said Even.
Senior Tessa Stewart has enjoyed her time in high school and learned a lot from being a representative on the Superintendent's Student Advisory Council. She would like future Forest Hills students to be able to host representatives from other schools in a state-of-the-art building.
"It's not just a new building. It's a new environment, a fresh start. There are a lot of enclosed spaces. It doesn't always feel like a high school. Other schools have been remodeled and we'd like it to be our turn," said Tessa.
The school has an AgTech Academy offering pathways in animal science and pre-vet, sustainable plant systems, agricultural mechanical skills, food systems and AgriBusiness. Emily Helms, a senior, would like to see those expanded so more students could take advantage of the program.
"Working in small spaces isn't easy. We need a bigger school to accommodate our CTE (Career and Technical Education) and AgTech classes," said Emily. "More space means more opportunities for hands-on learning."
On Nov. 8, Union County residents will vote on the school bond package that includes Forest Hills High and East Elementary. Please visit www.ucps.k12.nc.us/bond2022 to learn more about the projects, review frequently asked questions and see renderings of the proposed buildings. Residents can register to vote at the Union County Board of Elections. Early voting starts Oct. 20.
10/03/2022