Return to Headlines
Two CATA teachers earn Outstanding Teacher Award from Project Lead The Way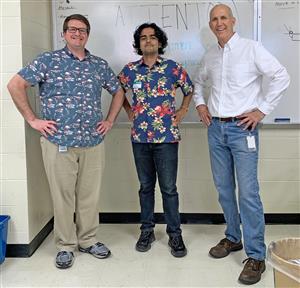 Central Academy of Technology & Arts educators (CATA) Jon Hidalgo and David Humphries are two of 59 teachers selected across the U.S. to have earned the 2022-23 Outstanding Project Lead The Way Teacher (PLTW) award. It recognizes educators who demonstrate a strong record of delivering an inspiring and empowering student experience while expanding access to PLTW programs and transforming teaching.
PLTW empowers students to develop and apply in-demand, transportable skills by exploring real-world challenges. Students learn technical skills and also learn to solve problems, think critically and creatively, communicate, and collaborate. PLTW also provides teachers with the training, resources and support they need.
Dipesh Bhattarai, a senior at CATA, nominated Hidalgo and Humphries for recognition for their work in the PLTW Engineering program. He describes both teachers as open and kind people with a gift for making topics relatable and understandable. Dipesh also values their opinions and knowledge.
"They both deserve this award because they do so much for us. I'm proud to see our school represented," said Dipesh. "Learning to accept criticism, especially in engineering, was a big lesson. In my first year, I was one of those students who thought they knew everything. Mr. Hidalgo and Mr. Humphries taught me to be open to other people's perspectives. They also have a way of making students feel comfortable asking questions or for help."
Hidalgo has been a teacher for 16 years and was introduced to PLTW 11 years ago. During his first training session, he sat in front of the computer to learn Autodesk Inventor software. The software is designed to inspire students to imagine, design and create. Hidalgo had reservations about it. They quickly faded as he used the PLTW software and concepts more frequently.
"It was a world I hadn't seen or experienced before. What I love about PLTW most is how my students can create their ideas and share their visions," said Hidalgo. "I'm a big believer in learning by doing. That's where PLTW does a great job."
On this day, ninth-grade students in Hidalgo's class presented their final unit projects in groups. The challenge was to redesign flaws in a competitor's protective case model. They were asked to demonstrate how they would adjust dimensions, change aesthetics or invent solutions. Following each presentation, there were brief discussions and questions and answers.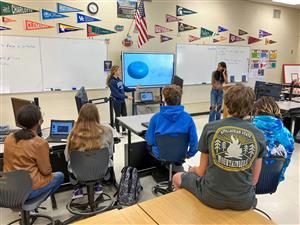 "At the end of our program, there is a capstone course. As a senior, they will design a project similar to this, but it will be an entire semester. They develop their design, conduct data surveys, patent searches, write justification statements and present it to their peers, teachers and community members."
After working in the engineering industry, Humphries chose to become a teacher. He has been teaching for five years.
"I come from industry, so coming into a school and knowing what a high school student should be expected to know and learn was a bit foreign. Having PLTW set that foundation," said Humphries. "It makes it easy to take it from there and to teach and expand on it. I've seen students struggle. They don't like it but once they get through it, you see how proud they are of their accomplishment."
Much of Humphries' instruction is influenced by his industry expertise. He can explain to the students how things are in the field. When he can explain why a lesson is vital, it resonates more. They see the value.
"It's my fifth year, and I have learned something about teaching. If you are not here to engage with the students, I'm not sure why you would be here. I look forward to walking into this building every day; I look forward to every class I'm going to teach. It's all because I get to work with these students," said Humphries. "Their knowledge grows considerably as they progress through the grades. We've had students who know nothing about engineering; then they are building wireless weather stations."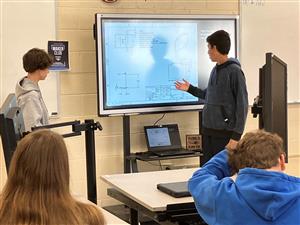 In Humphries' class, a few students asked him for advice on their insulin pump design. Specifically, what type of fluid can be used to mimic insulin. He encourages them to think and enjoys these types of discussions.
Both teachers credited their effectiveness to rigor and relationships. They've discovered that striking that balance helps students buy into the program. Even if their students pursue other interests, they are confident they have laid the groundwork for their success in any field.
"We are so proud of Mr. Hidalgo and Mr. Humphries for their dedication to our students. Their commitment to providing engaging, hands-on learning experiences enables our students to develop the knowledge and skills they need to thrive. We are honored and fortunate to have them as teachers at CATA," said Principal Kevin Beals.
PLTW is a part of the district's Career and Technical Education. For more information on PLTW, visit pltw.org.
10/12/2022