Return to Headlines
Seeing the impact of teachers through a student's eyes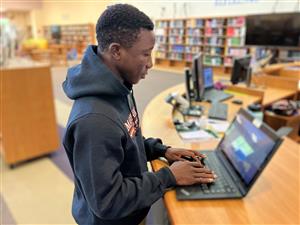 Some people make a lasting impression. James Walker, a Marvin Ridge High School 10th-grader, is such a person. His smile and upbeat personality would never give away the challenges he and his brother, Abraham, faced in their home country of Sierra Leone, West Africa. That journey of struggle and perseverance led his school counselor, Jeanette Beste, to ask him to talk to a room of about 115 teachers this past summer.
James' presentation was part of a professional development session. The topics were English language (EL), 504, and individualized education program (IEP) plans. Beste felt that his story could offer a relatable connection that would allow teachers to see the impact they make.
"James was enrolled here last January. He was attending school for the first time in the United States. There were many firsts, which James shared with the staff," said Beste. "He discussed the differences he was experiencing, such as playing soccer with cleats, learning technology and being in school consistently. We got the opportunity to learn from him the same way he's had a chance to learn from us. It was powerful," said Beste.
The Walker family began the adoption process for James and Abraham in November 2019 and brought them home in November 2021. James described his life before adoption. When he lived in Sierra Leone, survival was part of their daily lives. He and his brother traded metal for money to eat and would often sleep on the street or in abandoned buildings. This unstable home life frequently resulted in unsafe conditions.
"Sometimes I would sit back and ask, 'God, why is this happening to me?' I'd ask him if he loved and cared about me to change my situation. I would see families together and I would cry," said James.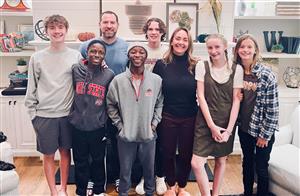 A series of events led James to an orphanage, where he later met Joe Walker. They created a close bond that continued even after Walker went home. The adoption process was lengthy, but James and Abraham now have a mother, father and four siblings. Despite the difficulties in his early years, James speaks with a touching sense of thankfulness and faith.
"What I wanted the teachers to get out of my talk was that no matter the situation, there is always a God. When I think of my life before, I would probably have been a dead boy right now," said James. "I wanted them to know what I've been through and how they have been a resource for me."
Some of James' challenges at school were with computers. Working on and submitting homework on a laptop was something he had never done before. He was used to using a pen and paper. His grades began to reflect this. With support from his teachers and family, he turned it around.
"Ms. Beste, my teachers and my dad helped me a lot. Sometimes I would stay up late to finish my homework. My dad would tell me to go to bed because I needed to rest. I'd say I was going to bed but didn't always listen. I'd get on the computer," said James. "I was determined to learn."
James does not recommend staying up late to complete assignments. He does believe that determination and hard work have helped him push through less-than-ideal situations.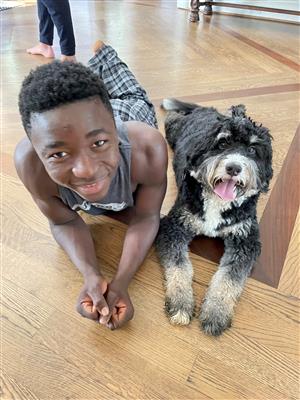 "James put a face to what is otherwise a black and white sheet of paper. He showed us through his experiences that the support he receives makes him an equal and sets him up for success," said Beste. "In six months, he went from not knowing how to use a computer to finishing two summer school classes online."
Math I was new, too. James had never mixed numbers and letters before. He hadn't heard of exponents or graphing. Rather than giving up, James worked harder and achieved an 86 in class with the help of his teacher. He is currently studying Math II, and his new teacher has been equally encouraging.
"Every time I move to another class, I learn stuff that I know nothing about," said James. "My teacher always asks if I'm okay. She shows me what I need to do. All of my teachers are that way. They know what areas I'm struggling in and work to help me. If I'm okay, I let them know I'm okay, but if I need help, I let them know I need it."
James has made many friends and said they've helped him, too. He values all the relationships in his life and feels at home. He also has an uncanny ability to see possibilities in any circumstance.
"We are not perfect. When you get into something new, first of all, you have to make yourself open," said James. "It's like a stick. A stick cannot just stand up and grow by itself. It's part of a branch that is part of a tree that has roots. If you have people who can help you, you can grow."
10/24/2022