Return to Headlines
January is National Mentoring Month: Creating connection through shared passions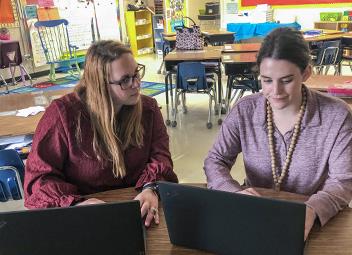 National Mentoring Month is an annual event recognizing the importance of mentors in the lives of others. In addition to helping people learn and grow, mentors can provide needed support. They have the unique opportunity to help someone reach their full potential. It is both rewarding and inspiring.
Union County Public Schools has many examples of formal and informal mentorship for students and adults. Often, it is an adult mentoring a child, but peer-to-peer mentorship is just as important. In a two-part series, we will highlight these types of mentorship.
Teacher-to-teacher mentors
Teachers Emily Holbrook and Ashley Klepfer were new to Western Union Elementary three years ago and instantly bonded. From then on, their friendship blossomed into a mentorship, providing encouragement and support to each other.
"I was a first-year teacher. Ms. Klepfer was not. I saw how she hit the ground running, and it inspired me," said Holbrook. "I had an assigned mentor who was also a third-grade teacher. We communicated virtually during our first two years, and she was wonderful. At the same time, I was building a strong connection with Ms. Klepfer."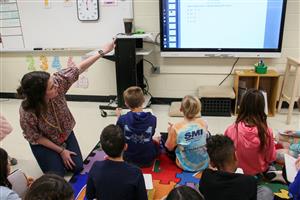 Klepfer teaches fifth grade and previously taught fourth grade. Although the pair teach different grades and have different levels of experience, they share a love of teaching and learning. The relationship benefits both of them. Each carries what they have learned from the other into their classrooms. It has also resulted in some great conversations and collaborations.
"I've loved getting to know Ms. Holbrook. She is a sponge. She is so passionate about her job and kids that she is willing to do whatever it takes to ensure they are growing. That is what drew me to her," said Klepfer. "I told her I didn't have all the answers but that there were things I knew worked and could help her with. In turn, I've learned from her, too."
Holbrook credits Klepfer with helping her break out of her comfort zone and explore new opportunities.
"I'm in my third year of teaching and am now the grade-level chair because of how her leadership has helped me," said Holbrook. "She encouraged me to pursue the STEM representative position, another leadership role, which we did together. We held professional development and meetings. With her guidance, I'm really growing as a person and teacher."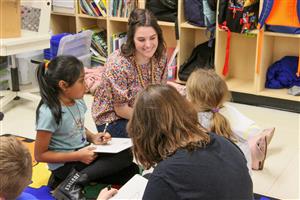 Holbrook said she learned two important things from her friend and mentor: to be student-centered and data-driven.
"You can tell when you walk into Klepfer's classroom that her students are present and that she cares for them. She has little signs on every student's desk with blurbs of encouragement. She focuses on their morning meetings to build relationships and is interactive. It led me to focus more on the social/emotional aspects of my classroom," said Holbrook. "On the data side, she has a wall of her math and reading data so students can also see their achievements and celebrate themselves and each other. Seeing the goal helps them motivate each other. I've used some of those strategies, too."
Holbrook and Klepfer agree that mentorship is valuable at any stage of your life or career.
"I've learned what a mentor should look like from Klepfer and other teachers in my grade level. Being mentored is about receiving support and being pushed to achieve more and better. I'd love to be a mentor for someone," said Holbrook. "I've become more confident because of it."
01/26/2023